Last year a lot of changes in the New York City real estate market, with two of the biggest being the historic rent reforms passed in June and the pile-up of luxury condos. These changes marked a power shift in two critical ways: from landlords to tenants, and from sellers to buyers. Other changes include an increased push towards sustainable development and a dry-up of the once enticing rental concessions. With the arrival of the new year and a new decade, many people will be asking if these trends look set to continue or if they'll reverse.
Here we break down what you can expect ahead as we offer our predictions for the NYC real estate market in 2020. Each area is divided into sections, so feel free to jump to the parts in the article that is most relevant to you. But with so much of NYC's real estate market being interdependent, changes in one area can have knock-on effects in another. So we recommend reading the whole article to understand the changes better ahead.
Projects take 3-5 years from concept to marketing. Hudson Yards 10+ years. After a few thousand more in 2020, new units fall sharply. You're mostly seeing projects funded in 2014/15. That's why developers make so much – the risk premium for this lead time is insane.

— Jonathan Miller (@jonathanmiller) January 4, 2020
Historical changes to the rent laws last June brought much welcome relief to renters and despair to many landlords. The Housing Stability and Tenant Protection Act now give renters in both rent-stabilized and market-rate properties new protections against evictions and practices like being asked to pay the last-months rent on top of a security deposit. However, this has had a knock-on effect of making landlords look for other ways to raise their income. Since they now can't raise the rent for their stabilized tenants, they've started increasing it for their market-rate tenants. For those who live in market-rate apartments, there is little you can do about this. All the indications are that rents will continue to rise in 2020.
The weak sales market means there's a lot of competition in the rental market. This puts landlords under very little pressure to offer concessions as there's no shortage of potential tenants. Furthermore, the new rent laws mean developers are now feeling less inclined to invest in new developments and multi-family buildings. With less new rental building development and less opportunity for new market-rate homes, the high demand for housing indicates that prices will go up. As a result, we'll probably see growing demand in more (relatively) affordable areas like Upper Manhattan and neighborhoods to the south and east of Prospect Park.
If you're currently a market-rate tenant, then you have two options. Try to negotiate with your landlord or vote with your feet and move elsewhere. For a lucky few, there may also be a third option. Look into the rental history of your apartment and challenge your non-stabilized status. The new changes to the rent laws now make it easier to do this.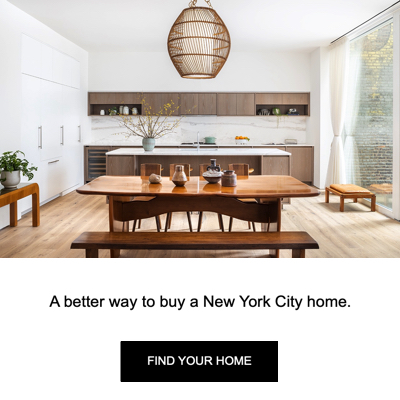 Rising rents mean we'll probably see more co-living companies pop up this year. With many millennials feeling crippled by student debt and unaffordable prices, co-living companies offer another option. They aim to provide undergrads and post-graduates with hassle-free co-living spaces that they can share and pay for together. There are far fewer upfront costs, and the lease terms tend to be far more generous than traditional market-rate rentals.
But anyone interested in this housing model should exercise caution. This is a relatively new housing model with a lot of variations from one co-living space to the next. Some co-living companies have even gone-under (at the expense of the tenants) for not following the law. If you choose this housing option, then make sure you research the company thoroughly. Read all the paperwork, check reviews, and trust your gut. Before you sign a lease, you should make sure that all your roommates are also on it. Otherwise, you could be thrown out of the apartment by city inspectors.
Rent-stabilized tenants may have breathed a sigh of relief last June, but the landlords haven't given up yet. Right from the beginning, they started to push back against the new laws that limit their ability to increase rents. One group has even filed a lawsuit against the new rental laws. They argue that they violate their rights and are an unconstitutional 'taking' of property. Others are looking for ways around the new legislation, like combining two rent-stabilized apartments into one. A practice that would allow them to get a one-time rent hike out of a new tenant.
Additionally, since there's no upside for a landlord to renovate rent-stabilized units, there's been a drop of 44% in renovation projects in buildings housing them. As a result, we're likely to see an explosion in the market for used-appliances as landlords look to cut corners rather than buying new.
We'll likely see another battle this year between landlords and activists during the legislative session. Several significant issues remain unresolved, such as the re-regulation of some 300,000 to 450,000 deregulated apartments. There may also be another push for a good-cause eviction bill which didn't pass last year. How things will play out is uncertain, and there may even be some rollback of the gains made by tenants in 2019. Only time will tell.
The oversupply in luxury inventory and the slow market will likely persist for most of this year. This is good for buyers, but other factors are making many of them adopt a wait-and-see approach. Election years always cause market jitters. But there's also the new cap on state and local tax deductions and the latest hike on the mansion tax that is making buyers stay on the sidelines. There's also talk of a possible recession being on the horizon and a prevailing opinion that prices may fall further.
That said, savvy buyers can play the current market to their advantage if they're looking to trade up. As the year goes on, more sellers will begin adjusting their prices to the new reality. Consecutive price drops on a property should no longer be taken as an indication that there's something wrong with it. If you're looking for a bargain, then keep an eye out for properties with a high number of days on the market that have also gone through multiple price cuts. If you're trading up, then even if you can't get what you want in a sale, you can still maximize your spending power if you buy again quickly in the same market cycle.
Condo prices can also be expected to dip, and co-op prices may fall even further. Last year's poor sales record finally brought down the sales prices for co-ops. As a result, many sellers and developers are starting to offer extreme incentives to attract buyers.
Buyers should look out for buildings that have only a few units unsold. Finding one like this puts you in a commanding position to negotiate on transfer tax, mansion tax, and other closing costs.
The expectation now is that there'll be a slow but steady rise in demand for housing as we move through 2020. More buyers will get on board as they see prices stabilize, and interest rates remain low.
More sellers can also be expected to drop out of the market. Choosing instead to either wait for better times or rent out their apartments. Those that can't afford to wait will look for new ways to make their listings stand out through renovations or upgrades. Those sellers who can provide an upgrade are likely to stand out as the 'diamond in the rough' once other sellers have dropped out.
Sustainability and green development practices are becoming more mainstream in real estate development and renovation. The chances are that this will pick up further speed this year as developers look for new ways to redesign buildings in a way that's good for the environment. In the near future, we can expect to see a building's market value being very dependent on its sustainability rating. Buyers will want to take note of this if they plan on reselling in a few years.
Last year, the Fed made three separate cuts to interest rates, which brought them to record lows. In December, the Fed left rates unchanged and signaled that any further changes would remain on-hold through 2020. The chances are that this will be the case, and rates will stay low for 2020.
New developments in the outer boroughs are likely to see more Manhattanites making a move as they look for more affordable and larger alternatives to Manhattan. Queens' abundant transportation options and growing cityscape is already attracting a lot of buyers and will likely lead to more development in the future.
The Bronx saw a development boom as more permits get approved, and more buildings break ground. Meanwhile, in Brooklyn, we're seeing more buildings offering flexible financing options to attract buyers. This can be expected to continue through 2020 as more sellers look for ways to incentivize buyers.