Brownstone-lined streets with coffee shops, organic grocers, and stylish boutiques have made residing in Brooklyn an obvious lifestyle choice for thousands of New Yorkers. With rising rents and frequent bidding wars added to the equation, Brooklyn's real estate market is booming; in fact, specific neighborhoods have become pricier than parts of Manhattan. According to the New York Times, the second quarter of 2014 brought 107 sales priced above the $2 million in the borough, a higher number than ever before. This included a $10.625 million townhouse in Brooklyn Heights. With this in mind, where can you find a townhouse deal in Brooklyn?
The term "deal" is a relative one in New York, but finding a lower-priced home in Brooklyn may not be as tough as you think, especially if you're willing to adjust the refines of your search to include areas beyond Park Slope, Carroll Gardens, and Cobble Hill. These four sections of Brooklyn still hold a few deals here and there, so move quickly and be ready to pounce when you spot "the one."

Consider Crown Heights, which is in Central Brooklyn and adjacent to Prospect Park. The area houses four express trains and has become considerably cleaner and safer since its seedy days in the early 1990s. Thought of as typical Brooklyn –– trees, townhouses, and an undeniable neighborhood feel –– expect to find brownstones starting in the $2 million range, and brick townhouses starting around $1.4 million.
Historic brownstones, many of which still have original details like fireplaces and crown moldings intact, are scattered throughout Bed-Stuy. Spanning from Flushing Avenue to the north, Atlantic Avenue to the south, Broadway to the east, and Bedford Avenue to the west, the area is attracting droves of future homebuyers not only for the gorgeous row houses but also for the rich history of the neighborhood. Prices can start as low as $600K for a smaller house, but a sprawling historic brownstone for which the nabe is known will likely run more than $1 million. Bed-Stuy has rid itself of the stigma from the 1970s and '80s, but this part of Brooklyn is still considered "up and coming."
You'll find more brick and limestone townhouses than you will brownstones in Sunset Park, but the prices remain lower than other nearby sections of Brooklyn. A diverse population, historic district with stunning Romanesque and Renaissance Revival architecture, Brooklyn's Chinatown, and a namesake park are all great reasons to think about purchasing real estate here. Depending on condition and location, townhouse prices start at about $800-$900K and go up from there.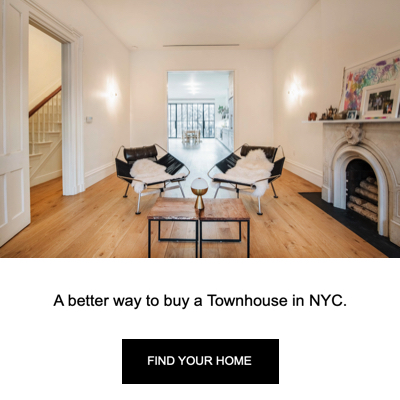 Photograph by Tracy Kaler
Although the inventory isn't as vast and prices in Clinton Hill are higher than the above-mentioned parts of Brooklyn, you'll see a few spacious, coveted brownstones around $2.5 million. Home to well-regarded Pratt Institute saturated with classic Italianate and Beaux-Arts architecture; neighborhoods like Clinton Hill that have drawn locals, transplants, and celebrities (Susan Sarandon, Ted Allen, and Rosie Perez) to the borough. Stroll down Clinton Avenue and discover the mansions of this lovely NYC enclave, which has been listed on the National Historic Register since 1985. Interested in purchasing a Brooklyn townhouse? Check out Elika's townhouse guide.