The key to buying a home in NYC is finding the right condo or co-op apartment, knowing where to look and what features to consider. An apartment that will not only reward you with walls, square footage, and appliances but become an asset with the potential to outperform the broader market. Gea Elika, the Principal Broker of Elika Real Estate, shares his expert insight into finding the best apartment for your needs in New York City.
You are entering into a (vertical) community. This means there are essential considerations a home buyer must contemplate before choosing a home to buy. Deconstructing the search process will help you find the best apartment and building to call your home.
When searching for an apartment in New York City, you will want to find an apartment that fits your needs and may arise over the next few years. But if you want one that also has the potential to become a powerful asset, then you'll have to consider resale value.
It sounds strange, but the best time to consider your home or apartment will one day sell is before buying it. Perhaps premature, but your heirs will need to sell the property one day. If you choose a home now because it's cheap, that can mean problems later if there's a lack of appeal or demand. Choose an apartment in a neighborhood with depreciating value, and it will sell for much less than what you originally paid for it.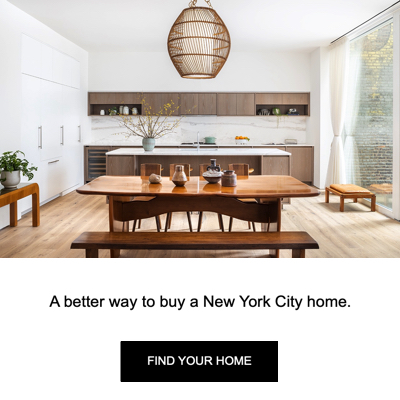 Things like lot size and curb appeal may be on some buyers' radar but won't be factors for most city dwellers. But, of course, if you're searching for a home in one of the outer boroughs, those factors may come into play. So when considering resale value, we'll focus more on Manhattan and urban areas in the outer boroughs. Our primary focus is New York City real estate, condos, and co-ops. Below are the primary considerations that will affect resale value.
Regarding bedrooms, while the mantra "more is better" is accepted wisdom, it's not always right when searching for a home in New York City. It's wise to contemplate which features will appeal to future buyers. Square footage is a consideration, but an open layout also weighs in. An apartment with a poor layout will be limited in what renovations you can do. Still, previous owners liked the privacy of closed-off spaces, showing that tastes evolve. However, this is usually an easy fix to create.
The price difference between a three-bedroom and two-bedroom apartment is not nearly identical between a one-bedroom and two-bedroom apartment. Three-bedroom apartments are competing with single-family homes.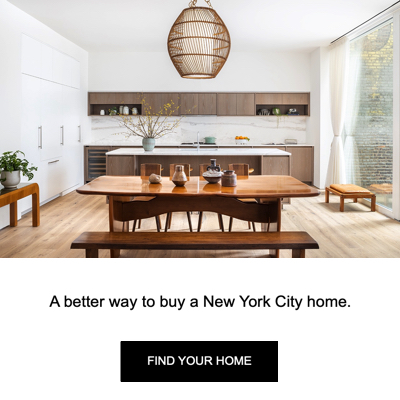 Some amenities will be attractive to future buyers that will likely stand the test of time. Aside from a spacious, open concept, storage space is essential. Prospective home buyers will look at counter space and closets favorably. An updated kitchen is also a great attraction; this is discussed below under the upgrades heading.
Being your home should have something that sets it apart from all the others. It's not just personal taste, though. I love to see details such as high ceilings, large windows, pre-war features in a co-op, open floor plans, positive flow, and quality renovation. These timeless, structural features enhance your capital appreciation beyond expectations, which means your investment pays off sooner.
The same goes for other benefits that you cannot replace. For instance, an apartment with an open view and lots of sunlight. Although, that's assuming there's no empty lot across the road that can be developed into a skyrise that blocks your sunlight. These sorts of 'tried and true benefits' will always add value. Should the market get stronger, so too will your property value at an accelerated rate.
As a homeowner, you can change paint colors, upgrade appliances, and install hardwood floors. But you can never replace the view from your living room window. Nor can future homebuyers, so you must have an exposure that speaks positively for itself.
Do you love the apartment, or do you like it for what it could be? Either is fine, but it's worth getting an estimate of how much a renovation will cost if it's not ready for move-in. Be wary, though. Renovating an apartment you love is one thing. But keep in mind that your residence is an asset you might one day want to sell. Renovating to help the property appreciate over time and hold resale value is essential. Any renovations will wish to appeal to someone else's style down the line.
Are the rooms the right size, or will they drive you crazy in about two weeks? What about the bathroom and kitchen? Are they well suited to your lifestyle? Generally speaking, a kitchen or bath will make or break your apartment. You'll need to be happy with the dimensions from the start. If you're unsatisfied with their sizes, you'll need a plan to expand them. If that's the case, get a quote before signing the contract.
Any living space you wish was a little larger but managed will mean resale problems. For example, if a bedroom is too small and cannot be enlarged, it will negatively impact your apartment's resale value.
If the appliances are new, then you are pretty much all set. Ensure they are still under warranty; if not, ensure they all work. If they're not to your liking, you may want to replace them at some point. Next, check what the replacement cost is going to be. It'll cost an extra couple of thousand to replace the appliances. If you already love the place, this isn't a big deal.
Second, do they need to be refinished? If it does, make sure they are real. This is a relatively small cost, but it's more natural to do it before all your possessions are moved in. As for imitation wood, steer clear. It may look gorgeous, but it wears terribly and indicates cheap construction that might be present throughout the apartment and building.
Suppose it does have a washer/dryer; great! If not, is it on the floor, in the building, or down the street at a laundromat? I'd recommend going for in-unit if possible but if not, aim for in the building. Far more convenient than lugging your clothes around, especially in the January snow!
A well-maintained building and clean basement indicate that the building is well cared for and that problem will be addressed quickly and effectively. First, fewer problems are likely beneath the surface, which is a good quality indicator. Second, it says that any issues that crop up are likely to be dealt with quickly, which is the best way to keep costs down.
Central HVAC is the cheapest and most effective way to control the temperature of your house. Plus, it takes up the least space! So make sure you ask how your new apartment is heated and cooled, and aim to get central HVAC.
Something that you consider charming or unique about a property might not be as attractive to another buyer. So, if you're buying an apartment with the chance of reselling it, you should avoid properties with too much character. Classic architecture and vintage details that match the property's overall design are part of the home's original concept and add to the resale. But "funky" layouts such as a kitchen you have to walk through to get to the primary bedroom and glass brick bathroom walls might hurt the resale value. Look for great bones.
After making the purchase, you may very well decide to make renovations. Specific remodeling jobs will add more value than other ones. For example, kitchens and bathrooms have long been noted to pay for themselves regarding the ability to fetch a higher price when owners decide to resale. The updates do not need to be significant overhauls. Simple things like replacing the caulk, updating the hardware on the cabinets, and replacing the faucets can make a difference.
You can do other things to increase your home's value. A well-lit space, including natural light, more efficient heating and air conditioning, and flooring, are all items that can boost your home's value, aside from creating open spaces. This does not mean you should neglect routine maintenance. It is imperative to keep up with repairs. Little problems like a leak can turn into major ones. A well-maintained home will be an attractive site for future buyers.
If your new home needs some renovations, make sure you upgrade in the areas where it'll result in a return on your investment. The two most significant returns on your investment are remodeling your kitchen and bathroom.
Remember the character tip above during your remodeling adventures, and avoid over-the-top designs. Stainless steel appliances in the kitchen are always the right choice, and simple tiles alongside muted colors in the bathroom are also wise when redesigning.
There are other things to consider, which may seem small but will matter to future buyers. First, you will need to look into the history of the apartment. For instance, if there has been mold, it could turn off some buyers even if it has been remediated. If the condo is a fifth-floor walk-up, that is inconvenient, especially for the elderly or those with little children. Amenities such as a gym in the building and a doorman are excellent advertising features.
This is a familiar real estate refrain, but it has a new meaning for New York City apartments. There are different definitions for a desirable location outside of the city. In the city, convenience and walkability are essential.
It may be a cliché, but it is the most important issue regarding resale value. However, there are many things to contemplate under this broad category. Nor is it a matter of merely buying in the most expensive neighborhood. For instance, many communities in Brooklyn and Manhattan have seen a revival over the last several years. Nonetheless, a smaller house in a more affluent area will fetch more than a large home in a more modest neighborhood.
Some qualities make the location more desirable. Foremost is the schools' quality, making it a key consideration even if you do not plan to have children. Several studies have tied the quality of schools to the price of homes in the neighborhood. Frequently, test scores are considered the primary basis for ranking. However, a wealth of information online and websites crunch the numbers. For instance, schooldigger.com provides ratings on New York City school districts.
Several other essential criteria make a particular location desirable. These include being on a quiet street, a sense of community, walking to amenities such as shopping and schools, proximity to parks, and public transportation access.
You should check the neighborhood's zoning. Although it may not be an issue currently, it could go down the road if private businesses are allowed. This could create unwanted noise and even pollution.
If you genuinely want the most bang for your resale value while also enjoying your home or apartment while you live there, you need to choose a great neighborhood and a great property. Keep in mind that less than desirable communities might have a beneficial factor when you're ready to resell. Neighborhood gentrification usually takes five to 10 years, depending on the area, so if you're only planning on living in the apartment or house for a few years before selling, the neighborhood might not reach desirable status.
A make-or-break deal with many homebuyers is curb appeal, so make sure your home is just as beautiful as it is on the inside. This means a well-constructed, desirable architecture, well maintained from the curb and throughout. If you're reselling your apartment, curb appeal plays a significant role. An apartment building's exterior condition is out of your control, so make sure you choose an apartment in a building with an attractive façade and entrance.
The building should be attractive and fit in with the community. It should have desirable characteristics and be well designed to mature gracefully over the long term. The exterior can be considered "curb appeal," but it entails more in the city's case. The interior of the building is also significant. It should be done tastefully. You can quickly change your apartment's paint color, but that is not the building's case. You should examine the furniture, lighting, flooring (carpets, hardwood, etc.), and landings upon entering the building. Beyond style, the building should be well-maintained.
It would help if you kept an eye on everything, with no detail too small to escape your notice. Check for peeling paint, cracks in the wall, or dirty carpet. This may seem nitpicking, but a sloppy appearance looks terrible and could be a precursor of a negligent staff when you need maintenance on your apartment. After all, this is your first impression of the building.
You can also find out which management company the building uses and check its record. Some are notorious for providing poor service. Don't associate a more prominent management company with quality. If the building has a doorman, they should be courteous and greet people with a smile. That is easy to spot, but the uniforms should be neat and clean.
Overall, security is critical for you to feel safe at home. The amenities should be something you will want and utilize. A well-equipped gym and outdoor terrace are two valuable items. You are paying common charges/maintenance costs, so these should go to things you desire rather than impractical and wasteful.
Thus far, your inspection of the building has been pretty straightforward. However, it is time to explore further and look beyond the surface.
Your eyes may glaze over at the thought of examining financial statements. You may even have trouble balancing your checkbook. But a building's financials are relatively easy to digest, and your broker can get you a copy. First, check to see whether the statements have been audited. Next, it is time to turn to the financial statements. The income statement will tell you whether revenue exceeds expenses or the opposite. If it is the latter, that is not a good situation since there is a loss.
If ongoing, the building is not being run efficiently. This could mean future hikes in your monthly maintenance/condo common charges or a cut in services. You should also check the balance sheet, see how much cash is available, and compare it to the year-ago figure. Lastly, you will want to look at the cash flow statement to see that the building is cash flow positive and where the cash is going. A building should have a big enough reserve to withstand an emergency, such as a substantial repair. A well-run building will have enough reserves to cover three to six months' expenses.
Next, it is time to examine the co-op or condo house rules. Everybody must abide by these, and you should ensure you can live with them. While bylaws relate to the operation and governance of the co-op/condo, such as matters relating to the election of the board and frequency of the meeting, house rules focus on the quality of life issues. Mostly, these are what you can do and what is not permissible. Ideally, these are rooted in common sense, focusing on the residents' safety and keeping order. However, these can go overboard.
One house rule you should pay particular attention to is whether or not short-term rentals are permitted. Renters, particularly those who will not be there for an extended period, will not care about the building as an owner. Also, if more than 50% of the condo units are investor or sponsor-owned, banks may be reluctant to lend, making obtaining a mortgage more challenging.
It is now time to turn to the mix of units in the building. Ideally, you do not want to buy the biggest apartment in the building. It is an old real estate axiom to buy a smaller house in the best neighborhood rather than the largest in a less desirable area. Also, the fewer apartments in the building, the hotter it is. More units mean more crowding, increased wait times for the elevator, and more neighbors. You will also have more competition when it is time to sell or rent your apartment.
There is a host of factors to consider before buying an apartment. For instance, new construction may cost more, but will the newness wear off when you decide to move? An agent can be of great assistance. After all, they do this for a living, while you will only buy a home a couple of times during your lifetime. A buyer's agent may be the best to help since they seek to put you in the optimal home, while a seller's agent is likely to maximize price and commission. If you're considering purchasing an apartment in the
New York City area, then you're already thinking about your future. But, if selling your home down the road is in the cards, you need to remember about potential buyers. So, with fruitful reselling in mind, here are some things to consider regarding your new real estate purchase's resale value.
There is a lot of pressure when buying an apartment in NYC. For many, it is one of the most significant investments they will ever make, so potential buyers are understandably concerned about what lies beneath the surface of the fresh coat of paint and that it's the right home for them.
Finding a suitable building is a complex undertaking with many considerations. Aside from the ones mentioned, you should also see if there is storage space. It may not be a deal-breaker, but it is an excellent item and a selling point when you are ready to move. These considerations should help you ensure you are getting your money's worth and that you love your apartment in 10 years just as much as you enjoy it today.