It's a dream for many Americans to purchase a home. But for many New Yorkers, it's a dream that can seem well out of reach. Despite historically low interest rates, many buyers in NYC and across the country struggle to make homeownership a reality. The biggest challenges are high home prices, sluggish wage growth, and limited housing inventory. But as a new year and a new decade dawns, there is optimism that things are about to change. New data from the credit bureau Transunion predicts that between 8.3 and 9.2 million first-time homebuyers will enter the market between 2020 and 2022. There was a significant jump from just 6.67 million between 2013 and 2015 and 7.64 million between 2016 and 2018.
Despite a shaky start, Generation Z is finally entering the race. But challenges remain for many New York buyers, regardless of the current buyer's market in New York City. One solution would be looking into first-time homebuyer programs. Many of these can provide you with the funds to make a down payment and pay closing costs. Others can give the mortgages generous terms regardless of a low credit score. So, if you're determined to make this decade the one where you finally attain homeownership, look at these programs available across N.Y. state and NYC.
The first go-to program for most people needing mortgage assistance will be the FHA loan. They come with low down payment requirements and very generous income and credit requirements. Also, contrary to popular belief, they're not just available for first-time buyers. Repeat buyers and those looking to refinance their mortgage can also use an FHA loan so long as they meet these eligibility requirements:
A credit score of at least 500
A debt-to-income ratio of 50% or less
5% down payment if your credit score is 580 or higher
10% down payment if your credit score is 500-579
The property must be your primary residence and meet the FHA's minimum property requirements.
The USDA loan is a zero-down-payment loan available to anyone looking to buy a home in rural New York. Rural communities aren't usually what people hear the words, New York. But the Empire State is home to many pristine rural areas. But if the thought of living rural doesn't appeal to you, you can take heart in knowing that several suburban areas near NYC fall under the USDA's definition of "rural" New York. To qualify for this zero-down-payment loan, you must meet these eligibility requirements: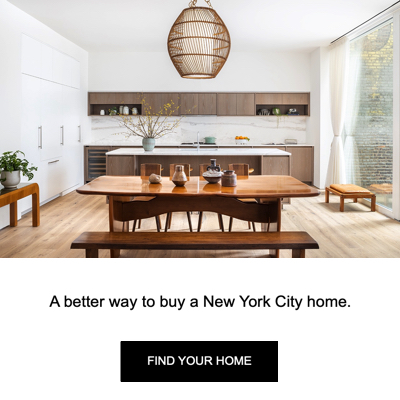 A credit score of at least 620
Your household income can't exceed 115% of the median income of the area you chose to live in
Your debt-to-income ratio can't be more than 29%, but this exact ratio may vary from one lender to another.
Are you a U.S. military veteran or currently serving in the armed forces? If so, the first program you should look at is V.A. loans. These loans are provided by traditional lenders but come backed by the U.S. Department of Veteran Affairs. So long as you meet their requirements, you can be, approved for a zero-down-payment loan with no private mortgage insurance (PMI). So even if you have a low credit score and low-to-moderate income, you can still qualify for these loans. The V.A. also limits how much private lenders can charge you in closing costs.
However, there will be a V.A. funding fee, the cost of which varies depending on your service record and whether you've taken out a V.A. loan before. Check out our article on V.A. loans to learn if you're eligible and how you can apply.
Are you a police officer, firefighter, teacher, or emergency medical technician (EMT)? You need to check out the Good Neighbor Next Door program. Created by the Department of Housing and Urban Development (HUD), this program aims to provide New York's public servants with affordable housing in specially designated revitalization areas.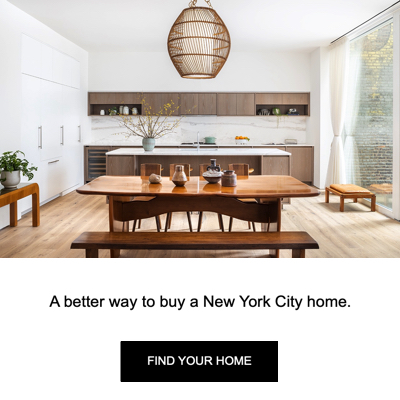 While the program doesn't offer mortgages, it does provide successful applicants with a flat 50% discount off the listing price on any homes in these designated areas. However, the catch is that you will likely face a very competitive application process.
In compiling their statistics on the number of buyers set to enter the market in the next three years, Transunion also discovered that most young buyers are unaware of Fannie Mae and Freddie Mac. However, two of the most significant mortgage industry players can help buyers with bad credit and low-to-medium income. One of the most effective programs for New York buyers is the possible home initiative. It allows buyers to qualify for a mortgage regardless of their credit score so long as they can make a 3% down payment. However, you must meet income limits, which vary by area and are set annually. You're also limited in your property options to 1-4 family units, condos, and planned-unit developments.
Despite those limitations, Freddie Mac does come with very generous repayment terms. You can cover down payments with money from friends and family for a start, which is impossible with conventional mortgages. Additionally, you can cancel your PMI once you've paid off 20% of the property's appraisal value.
Through Fannie Mae, you can apply for a similar program called HomeReady. However, this 3% down payment loan requires a credit score of at least 600. There are also income limits based on the area you wish to live in.
Native Americans who have served in the U.S. military will want to look into the Native American Veteran Direct Loan (NADL) program. The VA sometimes issues these loans for Native American veterans and their spouses. They come with zero-down payments, a fixed interest rate of 4.75%, and a loan maximum of $424,100 in most areas. The VA will also aim to keep closing costs as low as possible for purchases on these loans.
Several first-time homebuyer programs are available to residents of the Empire State through SONYMA. However, the first-time buyer requirement is waivered if you are a U.S. military veteran or buying a home in a federally designated target area. These "target areas" are economically disadvantaged areas where homeownership may boost the local quality of life.
Most of these programs come with a 30-year fixed-rate mortgage, down payments that can be as low as 3%, and interest rates as low as 4.375%. In addition, while each program has its only requirements, most of them require the following qualifications:
A debt-to-income ratio of no more than 45%
Two-years employment history
Completion of a SONYMA education course
A minimum of three lines of credit that have been active for 18 of the past 24 months – and paid on time
Must meet income and home value requirements depending on location and type of program chosen
This program's successful applicants can secure a 30-year fixed-rate mortgage with an interest rate between 4.250% and 4.625%, depending on your down payment. Applicants must meet income requirements and be able to prove steady employment. PMI will be required if you can't make a down payment of at least 20%.
This program offers a 30-year fixed-rate loan for those purchasing a primary home or refinancing. Depending on your down payment, interest rates are around 5.750%. For example, the down payment for a 1-2-unit home is only 3% if you have a credit score of at least 620. For a 2-4-unit home, you'll need a credit score of 680.
The FHA Plus program offers both an FHA mortgage and SONYMA down payment assistance for first-time and existing buyers. While applicants will have to pay 1% of the required 3.5% down payment, you can cover the remainder through a down payment assistance loan.
This program provides a 30-year mortgage for low-income families that are also first-time buyers. It comes with a very generous low-interest rate, though not as low as the Achieving the Dream program. Low-Interest Rate Program
Any SONYMA program can be, combined with a DPAL, structured as a second mortgage. It comes with no interest rate and no repayments if the borrower continues living in the home for at least ten years. Down Payment Assistance Loans
Current and former U.S. military members may qualify for this program, even if it's not their first home purchase. Most applicants will receive lower-than-average interest rates and down payment assistance. Homes for Veterans Program
If you're looking to buy a fixer-upper, the RemodelNY loan can provide the funds to purchase and remodel all in one.
You can apply for this program if you buy new construction or build your own home. It provides energy-efficient upgrades that can make your house a green home. Energy Star
Recent college graduates can receive down payment assistance, favorable interest rates, and homebuying education through this program. However, applicants can only receive this program if they purchase a specified New York Community slated for downtown revitalization. Applicants must also have good credit, stable employment, and monthly mortgage payments.
The HomeFirst program is a grant available to anyone purchasing a 1-4-unit family home, condo, or co-op in one of NYC's five boroughs. Successful applicants will receive a $40,000 grant for the down payment or closing costs. This grant is in the form of a forgivable loan, meaning you won't have to pay it back so long as you occupy the home for at least ten consecutive years. In addition to a meeting, homebuyer programs require applicants; to contribute some of their funds towards the purchase.
Many states and large cities offer down payment assistance to first-time homebuyers. New York City is no exception. Such a program is the HomeFirst Down Payment Assistance Program offered by the city's Housing Preservation & Development (HPD) agency.
Since we have an aversion to people wasting a money-saving opportunity, we provide a detailed explanation to see if this program fits you.
It would help if you qualified for specific criteria to be approved for the Homefirst downpayment assistance. First, there are income requirements, which depend on your family size. For example, a four-person household's income is limited to the low $60,000 range.
Unfortunately, this knocks many people out. However, circumstances where this might fit, such as if you are starting and feel your income is set to rise or have taken a pay cut that you believe is temporary.
The rest of the requirements are not responsible if you meet the income eligibility. Remember, the program is only for first-time homebuyers. You must also complete a homebuyer's education course taught by an HPD-approved counseling agency. In addition, the home you are planning to purchase must pass a Housing Quality Standards inspection. Beyond that, you must be able to make a financial contribution to the down payment or closing costs.
You can purchase a broad range of properties. It encompasses a one-to-four family home and a condo and co-op unit in any of the five boroughs. The city is not interested in subsidizing a rental business, so you must occupy the residence. In addition, you must live there for at least ten years and up to 15 years, depending on your income, based on the Area Median Income (AMI). For example, if your income is up to 80% of the AMI, you must reside at the property for at least ten years and 15 years for amounts greater than this threshold. For a family of four, 80% of the AMI was $72,500.
If you meet the requirements and go through the process, you are eligible for up to $25,000 to apply towards your closing costs or down payment.
It would help if you still qualified for a mortgage. The educational course should help you determine your options and what you can do to repair your credit score if needed. HPD also offers additional online courses. Not required, but you may find these informational.
You should feel comfortable that the program will remain in place. It was started in 2004 when the federal government launched its American Dream Downpayment Initiative (ADDI). However, ADDI eliminated the HomeFirst Down Payment Assistance Program funded by alternative sources, including city capital funds.
It is merely one program, so do not get discouraged if you are not eligible. Diligent homebuyers can search for federal, state, and other city programs to assist with various areas, such as down payments and closing costs. A buyer's agent can help you sort through the different options.
The NeighborhoodLIFT program offers a $20,000 grant towards down payment assistance through Wells Fargo. Like the HomeFirst program, it comes in the form of a forgivable loan that lasts five years. Each year the buyer occupies the home, a portion of the loan is forgiven. The remaining balance is due immediately if the buyer moves out before those five years.
Unfortunately, all funds for the program have been committed at this time. But that may change in the future, so keep an eye on the home buyer program for any developments.
If any of these homebuyer programs look like a good fit for you, take the next step and contact them. Before applying, ask about further eligibility requirements and fully understand the terms and conditions. When choosing a mortgage lender, make sure they have experience with the type of program you've chosen. Additionally, talk with your buyer's agent about the program you're interested in. If the home buyer program has property requirements, they should help you find one that matches them.