Unless you've been to art school, when you see a beautiful painting, you probably can't quite explain why you like it; you know you do. It's the same with interior design. We can't explain it; we only know that this style is what we want in our home. That said, it does help if you know what to call it.
Whether you're shopping for a home or looking to redesign your current one, you'll need an understanding of what sets one style apart. So here we give a breakdown of some of the most popular methods. Some might be familiar to you. Others, not so much. Either way, we hope you'll have a firm idea of what you're looking for in a home by the end of this.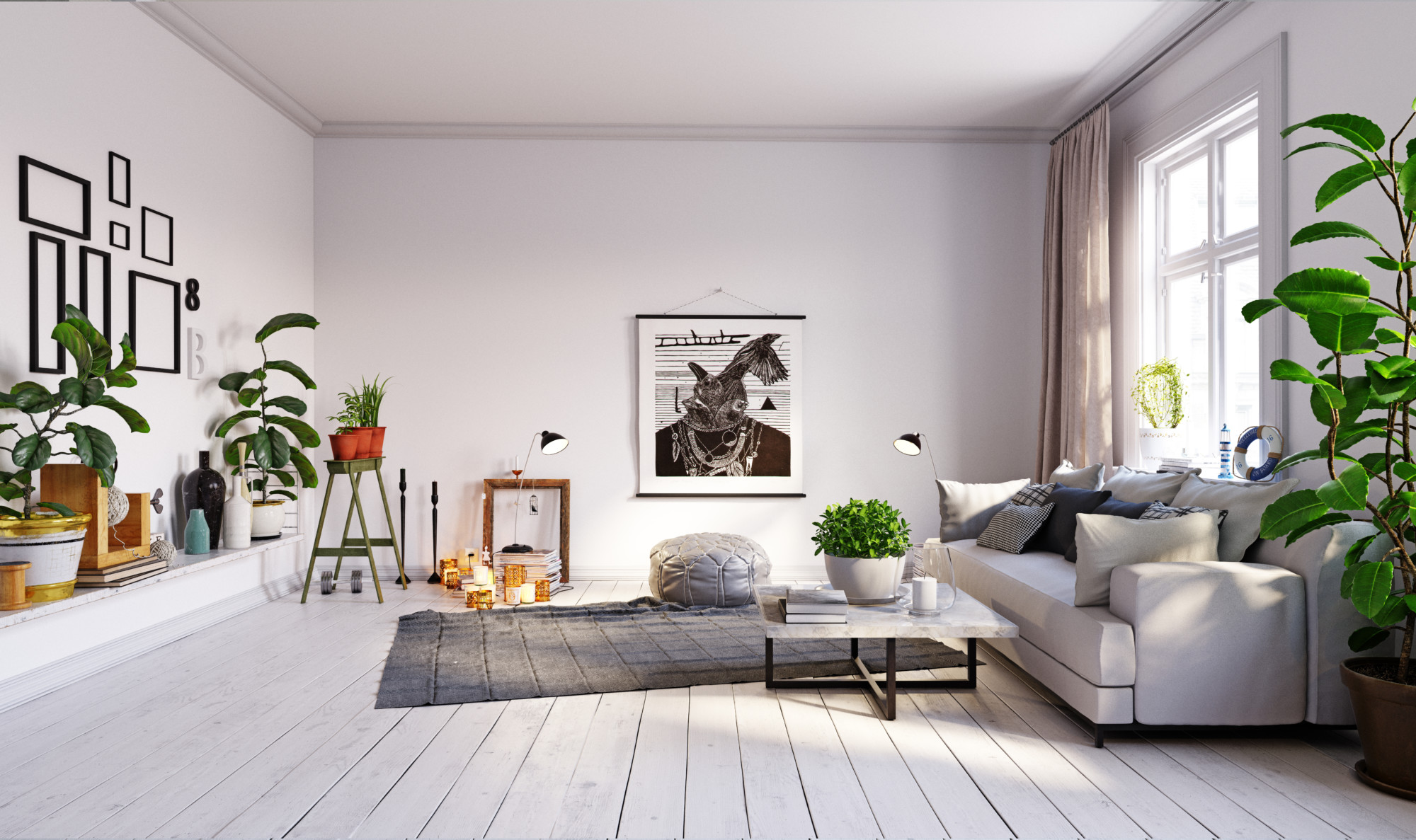 At a high point in its popularity, minimalism often gets misinterpreted as overly cold and austere. This is far from true. Instead, minimalism is all about clean elegance, refinement, and functionality. Those who enjoy the simplicity of this style but still find it too cold could try warm minimalism. An approach seeks to create a clutter-free space with a little more personality to suit the homeowner's tastes.
Consider a modern art gallery or museum as a reference when going for this style. Clean lines with sharp edges, a neutral color palette, and a heavy focus on functionality and open spaces.
Often confused with modern interior design, contemporary is not a strictly defined style. Instead, it's whatever's in vogue at present. It's this fluidness that gives a lot of flexibility to contemporary design. Some key giveaways to tell if you're looking at a contemporary home are curved lines, more variety in furnishings, and a warmer color palate.
Of course, it could also look completely different. But that's the beauty of it. The main aim of this style is to make a room look timeless by not tying it down to one style more than another. As a guiding principle, you should aim for simplicity with character.
Extremely popular, modern design is the style of choice now for many inner-city homes.
It's a broad term that typically refers to a home with crisp lines, a simple color palette, and the use of materials like glass, metal, and steel. Homes in this style are usually free of clutter, are highly functional, and have a sort of sleekness that feels shiny new. At its heart is a sense of simplicity.
This style first appeared in the late 20th century and borrowed a lot from Scandinavian and mid-century modern.
Like modern design, organic focuses on a clean aesthetic and neutral color palate. But what sets it apart is a more earthy and natural feel. It achieves this through natural materials and relaxed textiles to create unique points of interest. Compared to modern, it's a lot more casual in its approach. Organic is a great alternative if modern design feels too cold for you.
Sometimes referred to as classical, Traditional is that old style that we associate with the sophistication of the 18th and 19th centuries. For many years, it was the style of choice for the upper classes and anyone who wished to portray themselves as cultured and educated.
The main features of this style are a focus on elegant furnishings, plush fabrics, symmetry, and a love for antiques and classic art. In addition, colors should feel warm and inviting, allowing a lot of room to experiment with a vibrant color scape.
Granted, this may look like a more scaled-back version of traditional interior design, but we promise this is something different. Transitional is a style that tries to meet in the middle between traditional and modern. It takes the most tried and true décor choices of traditional and matches them with modern elements. The result is a home that feels sophisticated and classy but also of its own time. It's a great compromise if you and your spouse can't agree on a style choice.
Unlike choosing a set style, transitional allows much more room for experimentation. The key is to find out what works together and what doesn't. No two homes with a transitional style will ever look entirely alike, so don't be afraid to take risks and find a look that speaks to you.
Taking inspiration from the outdoors, the rustic design uses raw and often unfinished materials to create a home full of natural inspiration. It typically uses wood, weathered stone, leather, and other natural materials to create a chic countryside appearance. The aim is a home that feels cozy, relaxed, and organic.
These days, you'll often see modern furnishings and accessories incorporated into this design. However, it's also not limited to use in the countryside or suburbs. With the right approach, a renovated townhouse or walk-up apartment can easily capture this design style.
Similar to transitional, a French country is an approach that seeks to create a hybridized mix of classical furnishings, natural materials, and antique chic. As a result, homes in this style tend to feel sophisticated but warm and inviting.
Though overtaken in recent years by ultra-modern interior design, the French country can still offer a more charming and warm spirit for those who want a modern home with a bit of class. Color schemes tend to focus on warm tones to create a relaxing vibe. Antique furnishing can go great with this style by adding a touch of ornate.
Like mid-century modern, shabby chic aims for a vintage feeling that pays homage to a bygone era. Think posh antique furnishings, a light color palette of white, cream, and pastorals, and ornate light fixtures and wall hangings. What sets it apart is that it tends to be more feminine, soft, and delicate.
It sometimes gets unfairly labeled as 'granny-décor.' But for those who love it, shabby chic is the mark of a sophisticated home with a lived-in feel.
Sometimes referred to as the Hamptons Style, coastal is an iconic style you'll see across the famous beachside area. Its main features are cool neutral shades paired with blues and greens, white or beige furnishings, wooden elements, and large airy spaces. It's an excellent style for creating a home that feels relaxing and comfortable.
Also known as Hollywood Glam, Hollywood Regency is a throwback to the golden age of cinema when many stars had their homes decorated in this style. In some way, it's a sort of grown-up art deco that tries to separate itself from the Roaring Twenties. Homes in this style tend to be incredibly wealthy with plush furnishings and a bold color palate.
As a style choice, it's a great way to make a statement about yourself. It has a certain energy and vibrance you won't find with other styles.
Highly popular, Scandinavian interior design has effectively conquered the world and continues to spread yearly. Its style focuses on simplicity, functionality, and natural materials. Unfortunately, it often gets confused with minimalism, which it most definitely isn't. They share similarities, focusing on simple furnishings and large airy spaces.
Homes in this style often feature a mix of natural materials and modern furnishings and usually concentrate on asymmetry. What sets it apart, though, is its focus on organic shapes and textures. Think of it as minimalism with a more natural face.
If other styles are noteworthy for being somewhat formulaic and 'by-the-books,' then bohemian or Boho is the antithesis of that. Instead, this fuss-free style prides itself on being unconventional, distinctive, and lively in its approach to interior design. At its heart is a focus on creating a space that feels interesting, multi-layered, and has a story to tell.
Furnishings tend to be a mix-mash of different antique store finds, colors, and vibrant textures, while home accessories seem to speak volumes about the homeowner's life and interests. Anyone who loves art, travel, or the unusual will find a lot to like in this style.
Taking inspiration from the best interior design in the '50s and '60s, mid-century modern is a superb choice for those who want a clean, organic, and inspiring home. This design places emphasis on functionality and style. Natural wood and leather are favored materials, such as soft fabrics, organic shapes, and simple silhouettes.
It borrows a lot from Scandinavian in its focus on simplicity, functionality, and organic materials. However, it differs because it adds a vintage touch using warm earthy colors and stylish last-century furnishings.
As the name suggests, industrial interior design tends to have a clean, almost masculine feel. The color scheme tends to focus on heavy neutrals and moody hues. When combined with raw wood and unfinished metals, it creates an almost steampunk feeling. You'll often find it in warehouse conversions where many of the original factory elements, such as exposed pipes and the open-floor layout, have been retained.
It's an aesthetic that can play well in an urban setting, but only when you have a lot of space. In addition, a style like this requires a sense of scale to have any effect.
Like bohemian, the eclectic interior design creates a high-energy home environment with bold colors, strong textures, and a rich mix of shapes and patterns. Think of it as a more modern approach to bohemian style. Instead of filling out your home with antique furnishings, you can use more contemporary pieces. The end goal is a rich mix of different materials and furnishings that somehow come together.
Compared to other styles, electric allows for a considerable amount of creativity. However, this still has to be balanced with a degree of consistency. Each piece has to fit together and feel related. This takes a bit of practice, but once you find the right combination, you'll know it instantly.
Charming and contemporary, modern farmhouse is what you get when you combine rustic and contemporary. The result is a home that feels warm and inviting and up-to-date and functional. Homes in this style tend to have a simplified and clean feel. Modern updates usually include wide plank floors, open-concept living, and sleek lighting fixtures.
Slightly more rugged than the modern farmhouse, the modern country style seeks to bring a more industrial touch to country living. Homes in this style tend to feature many exposed wooden beams, wooden paneling, and original wooden floorboards. However, furnishings tend to be modern, focusing on comfort and simplicity.
Art-deco seeks to evoke elegance and glamor. It does this through a playful mix of opulent materials, geometric shapes, bold colors, and stylish fabrics. Anyone with a taste for the ornate and jewel-like will love this 1920's design style.
This style originated in France before its way to the U.S. from the 1910s to the 1940s. As a design style, it's iconic and remains popular to this day. It can usually be identified through its use of pointed edges, jagged corners, and oversized furniture.
Taking a minimalist approach, Asian Zen is a style that seeks to find balance and harmony in home design. It does this by taking a careful approach to how you design each room in a home. Everything must feel perfectly placed, with each room designed around its central purpose. Common features in this design include sleek lines, interesting shapes, references to nature, and the use of circles more than squares. It's also common to use curtain walls or door panels to separate larger spaces and create a sense of privacy.