Two recently released reports on Manhattan real estate continue to show the market remains vibrant heading into the spring. The cold weather and snowstorms apparently did not keep buyers away. A bid may have to be adjusted upward when examining sales data. Most of the metrics show a very healthy market, according to quarterly reports from Douglas Elliman and StreetEasy.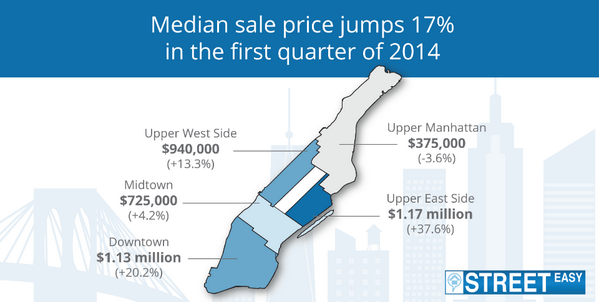 The median sales price rose 18.5% year-over-year, to over $972,000, according to the Elliman Report. StreetEasy's quarterly report paints a similar picture, with the median price up 16.9%, to $900,000. We are examining year-over-year data since there can be distortions from one quarter to the next, including seasonal factors such as the holidays and poor weather.
The average sales price for co-ops and condos reached nearly $1.8 million in the first quarter, an eye-popping 30.9% increase from the year-ago period, according to the Elliman Report. A mean can be distorted by extreme prices on either end, while the median price, which is simply defined as half the numbers above and below this level, removes this impact. The average price per square foot also advanced at a nice 15.7% clip from the prior quarter to $1,363.
There may be signs the inventory picture is stabilizing, although we caution against drawing conclusions on the basis of one quarter. Listings were essentially flat, up 0.2% to 4,968 apartments. Nonetheless, buyers may have little negotiating room. Listing discount, which compares the selling and listing price, continued to narrow. It was 2.6%, down from 4.3% last year. StreetEasy's data shows inventory down 13% from the similar period last year, noting it is the lowest level since 2007. The inventory also appears to be moving at a brisker pace, with the absorption rate, or the time it would take to sell the inventory on the marketplace at the current rate, down to 4.5 months versus 6.1 months a year ago.
Breaking down Manhattan real estate
The median price for co-ops rose 16.9%, to $760,000. The average price showed an astounding 41.5% increase, to nearly $1.5 million, and the average price per square foot rose 30.3%, to $1,205. Co-op buyers may have to contend with slimmer pickings since listings were down 9.8%, to 2,499. The listing discount also fell, to 1.7% versus 3.9%. Meanwhile, the absorption rate fell to 3.8 months, 1.8 months less than 1Q 2013's figure.
Prices advanced for condos as well. The median price was up 13.4% to $1.355 million. Meanwhile, the average price gained 19.9% to almost $2.2 million, with the average price per square foot up 15.5% to $1,591.  However, unlike co-ops, the number of listing rose. It was up 12.7% to 2,469 units. Nonetheless, this does not indicate a turn back to an oversupply since the listing discount narrowed to 4% from 4.85. The absorption rate also fell, down to 5.5 months from 6.8, indicating condos are moving at a faster pace.
Conclusion
The latest data is not surprising to anyone searching the Manhattan real estate market. It does provide confirmation that the housing market continues to strengthen. Nonetheless, information can empower buyers and allow for a better decision making process.