The Seymour is a 12-story building that's being built in Chelsea. It contains 49 apartments, and construction is expected to be completed in 2015. The building's architecture is heavily influenced by the Heritage of the surrounding neighborhood, while the residences inside The Seymour are an exquisitely tailored balance of nostalgic and contemporary design.
History
The Naftali Group is behind The Seymour's development. GHWA is the building's architect, while McGinley Design is the interior architect. And all interior design is being handled by Rottet Studio.
Architecture

The Seymour's architecture was inspired by Chelsea's rich artistic heritage and industrial history. The lobby's exterior features windows framed by black metal squares. This area is surrounded by brick, which also covers the rest of the building. Much of the exterior is defined by large groups of artist studio style windows that allow lots of natural light to bathe the interior.
Residences
The Seymour's beautiful kitchens feature warm oak cabinetry and Calcutta Gold backsplashes. Top of the line appliances provide both beauty and functionality.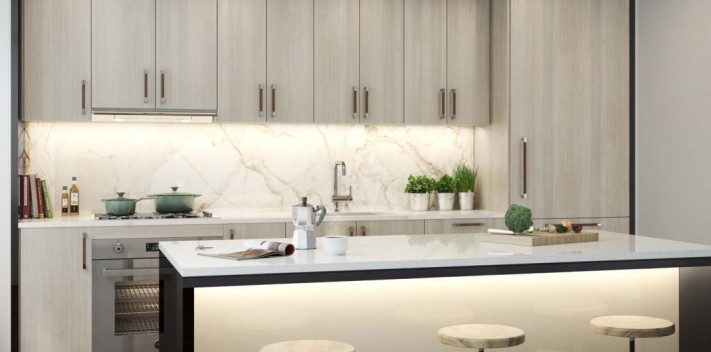 In the living room, solid oak floors and wall-to-wall windows create a great space that will make you feel at home from the moment you move in.

And when you're ready to completely relax, you won't have any trouble doing so thanks to the master bathroom's beautiful Bianco Dolomiti marble and large bathtub.
Amenities
There are several amenity spaces throughout The Seymour. The first is a bright and airy gym. In addition to lots of natural light, the gym provides a full selection of cardio machines and free weights. After working out, residences can walk outside to the garden to cool down. This beautiful space is also the ideal spot for having coffee with a friend.
Also connected to the garden is the indoor lounge. In this space, residents can enjoy playing pool or simply relaxing by the fireplace. The lounge is also right next to the building's media room, as well as a quiet library space that's perfect for getting lost in a great book.
Availability
Currently, 8 of The Seymour's 49 apartments are still available. Two of the apartments have 1 bedroom and 1 bathroom. 7A has 720 square feet of space and a list price of $1.32M, while 4E has 783 square feet of space and is on the market for $1.375M. Of the three 2 bedrooms that are available, 7C features 2 bathrooms. WIth 1,122 square feet of space, its price is $2.315M. The other 2 bedroom apartments have 2.5 bathrooms. 4B has 1,459 square feet of space and a price of $2.53M, while Garden D has 1,329 square feet and is listed for $3.49M.
The 3 bedroom apartments range in size from 1,773 to 2,029 square feet. They also have between 2.5 and 3.5 bathrooms. The price range for the 3 bedroom apartments is between $3.49M and $4.865M.

Neighborhood
If you're looking for the right mix of uptown glitz and downtown style, you'll love living in Chelsea. The neighborhood truly reflects both its industrial and artistic heritage.

[ The Seymour ]