After another brutal winter, New Yorkers are thrilled with the start of spring weather and the official first day on March 20. With milder temperatures, chirping robins, and blooming buds (hopefully) headed our way, there's no time like the present to schedule an annual spring cleaning.
I'm not fond of cleaning (is anyone?), but I love the results when I'm finished. So I say, keep your eyes on the prize as you start purging, scouring, and sweeping, knowing that the hours of hard work will be worth the time and trouble.
Before you get started, however, have all the necessary cleaning products and rags, paper towels, scrub brushes, and a good vacuum.
Here's a checklist of the must-dos during an apartment spring cleaning. I recommend spreading these tasks over at least a few days, or possibly two weekends, to get the job done right.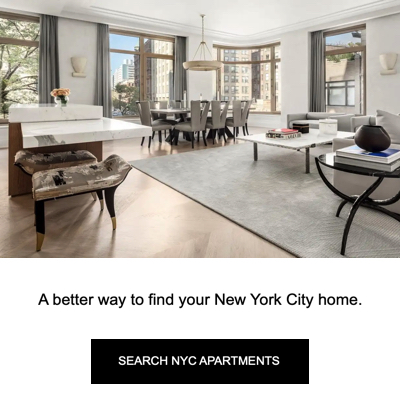 Get organized. Get each belonging in its place, and if your things are out of order, find each item a home. Be sure to do the de-cluttering before the cleaning begins.
Wipe all surfaces, and remove those items that you often "wipe around" when you're in a rush or lazy. Use the appropriate cleaning product for each surface (wood, glass, stone, etc.)
Clean your windowsills, first with a vacuum and then with a damp cloth and cleaner.
Wash the inside of your windows and the outside if you can. If you can't reach the outside, you might be able to get your super to help, or you might need to hire a pro instead.
Vacuum window treatments with a brush attachment.
Use the brush on your vacuum on lampshades, vents, blinds, baseboards, moldings, door headers, light fixtures, and the blades on ceiling fans. After vacuuming, wipe down with a damp cloth.
Clean your digital screens, computers, and television with a screen cleaner like Monster Flatscreen Cleaner and a soft cloth.
Wash all bedding, including mattress covers. Flip mattresses.
Vacuum rugs, carpets, sofa, under the cushions, and throw pillows.
Wipe all stainless steel surfaces in your kitchen, the faucet, and the sink (if metal) with a stainless steel cleaner.
Clean out the fridge. This isn't fun, but it is a must! Remove all items and discard any expired foods or condiments. Use the cleaner on each glass shelf. Wipe down the door compartments and crispers.
To clean your oven, make a paste of water and baking soda, which does a dynamite job. Run the grates on your stovetop through the dishwasher or scrub by hand. Note: This method doesn't work if you store sweaters in your oven like Carrie Bradshaw.
Every New York City apartment has a microwave. Just scrub it until it's clean. Windex works well here.
Now on to the bathroom. Use a cleaner like Bon Ami, some good old-fashioned bleach, and a brush to scrub your toilet bowl, sink, and tub. Pull out the stainless/metal cleaner and use it on the faucets and showerhead.
Use a gentle cleanser like Bon Ami or Comet and a brush in your shower, toilet, and bathroom sink. Bleach the toilet as needed.
If you have a shower door, now's time to scrub it with a shower cleaner. Wash fabric shower curtains and replace vinyl curtains and liners. Don't forget to do the same with the tile in your surround.
Dry mop your hardwood or parquet floors.
Vacuum all-area rugs/wall-to-wall carpeting.
Replace smoke/carbon monoxide detector batteries. Be sure to test.
Did you forget anything? Yes, you did –– you almost forgot to sit back with a nice glass of wine, your favorite brew, or a cocktail in your sparkling clean apartment. You deserve it!