In NYC's fast-paced market, it pays to know at a glance which listings are worth an offer and which aren't. Move too slow, and you may lose a great apartment to another buyer. But evaluating a property isn't just about deciding if it's worth an offer or not. It is also about determining how much to offer, whether something in the apartment is a dealbreaker, and what could be used to negotiate a lower price. It's simply the way it is here and something new arrivals would do well to learn quickly.
We've compiled a shortlist of questions to ask yourself as you walk through a listing during a private showing or open house to aid you in this.
While something of a buzzword in real estate lingo, 'flow' is a real thing and refers to the position of each room and how they relate to each other. It should feel natural and logical. For example, an entrance foyer leads to the living room, the kitchen, and the bedrooms. Quirky layouts will not appeal to many people, and if you're one of those who do consider a quirky floorplan, you may want to reconsider resale value.
Try to get your hands on the home's floorplan before you arrive. You can quickly eliminate a lot of properties with unusual layouts this way. Also, ask about which walls are loadbearing? Knowing this can tell you which walls you can take down during a remodel with building approval. For apartments that have gone through a recent renovation, check the building's alteration agreement to see if they only allow a set number of renovations per year if you want to attempt additional renovations.
Ceiling height can affect a home's value, especially regarding resales. For this reason, many remodeled or newly developed high-end properties have had their ceiling heights raised to ten feet or more. While many prewar apartments tend to have eight-foot ceilings, don't be surprised if you see the legal minimum height of 7ft 6in. In the case of a concrete ceiling, there isn't much you can do about that. What you see is what you get.
Large windows that allow for ample natural light are highly desired and come with a pretty high price tag. In particular, south-facing apartments and corner units are the most in-demand. By contrast, properties with very little natural light can feel dark and dreary. Enlarging the windows may not make much difference if neighboring structures block the sun and rays. Even if the views are unobstructed, you'll have to consider the chances of a new development going up and blocking what light you are now getting.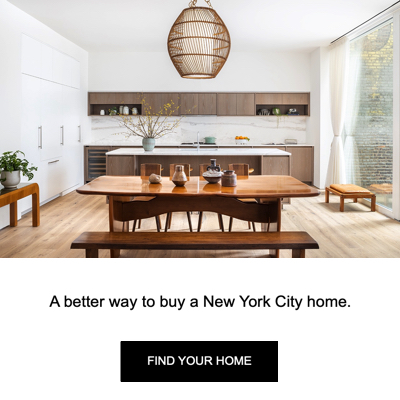 Another consideration with the windows will be how old they are? Triple-pane windows are highly favored for their noise-canceling and energy efficiency. Most new developments will have these, while they'll be less common for pre and postwar buildings. Single-pane windows found in many prewar buildings will be a problem as they can allow a lot of noise pollution to seep in, especially if the unit is located near a busy street or avenue. Still, that shouldn't rule them out entirely, as you can probably get soundproof interior windows installed, and honoring the 80% carpeting rule does help.
Like thin windows, thin walls can mean big problems with noise pollution. One easy way to test out the soundproofing of a wall is to have your spouse or broker stand in one room while you stand on the adjacent side. In this case, the noise will be coming from your neighbors or family members in other rooms of the apartment. If you can hear them talking from the other side, you'll want to consider if you can deal with it.
The quality and thickness of the doors can also tell you a bit about the apartment. Strong thick doors can block out noise pollution and cooking odors. While replacing the doors can be pretty straightforward, it's not cheap. Once you factor in labor, installing a quality door can cost as much as $1,000 apiece.
Space comes at a premium in NYC, which also applies to storage space. Many older prewar apartments tend to be lacking in this department. If that's the case, consider if there's enough square footage to make some changes. Consider whether there's enough to handle your needs and your family's.
The kitchen and bathrooms are often touted as the most important areas during a renovation project. They are also the most expensive to remodel, so if you do not have the budget to cover a post-purchase reno job, you must ask yourself if you're happy with their current state? You can always do a light-reno if all that is needed is a paint job or cabinet replacement. But if they need a significant update, that should be considered and reflected in your offer price.
Check to see that all the cabinets and drawers open properly and don't bump anything on the way out. Ask which appliances are included in the sale and test them to ensure they work.
A widespread complaint in NYC, especially with apartments on the mid or higher levels, is having a home with low water pressure. It can be a real nuisance whenever you want to use the shower or faucets. Another problem arises with an old or malfunctioning boiler that either takes too long to heat the water or blasts boiling water when a tap is turned. Plumbing issues are difficult to fix and can be a significant bone of contention during price negotiations.
Test out all the faucets in the home to ensure they work properly. The same goes for the toilets. When looking at new developments, four-inch copper piping is the gold standard.
Not likely to be an issue with newer homes, but this could be a problem for prewar apartments. Ask when the last electrical wiring update was made and if the amperage is appropriate for the apartment's size. Older wiring will not be up to code and can be highly costly to update. Unless you plan on a gut remodel, it is rarely worth the cost.
One reason why New York City loft purchases are so popular. Many buyers are prepared to pay a penny for homes with original detailing. Reclaimed brick, exposed beams and piping, and original base and crown moldings add character to an apartment, making it unique. But that's only when they are original and not of the fake variety. Ask and check for yourself that they are the real deal.
Do not overlook the building's common areas, as these are essentially the home's curb appeal. They should be well maintained and inspire a happy residency. When they are not well maintained, a poorly managed building may lack an adequate reserve fund. As for the amenities, they should be both enticing and practical. Things like an on-site gym and children's playroom can create the most value. But something like a pool can be expensive to maintain, which usually means yearly increases in maintenance and common charges.
These questions can help you immediately separate listings worth a closer look from those that aren't. However, just because a condo or co-op does not tick every box does not mean it is not worth buying. It just means you will need to make considerations before buying. Your buyer's agent can be invaluable in helping you identify any issues with a home and what the costs of rectifying them might be.