Jennifer Rogers is a writer with a special interest in NYC real estate, arts, culture, and local tourism. She enjoys traveling and is an eager explorer who enjoys finding the hidden gems in any destination in which she finds herself. Jennifer has spent a total of 25 years in NYC: 15 in Manhattan and 10 in Brooklyn.
Latest posts by Jennifer Rogers (see all)
East Hampton
400 Hands Creek Road in East Hampton is Neil Patrick Harris and husband David Burtka's new address. The Real Deal reported on the first of March that the couple paid $5.5M for the four-bedroom, 5,250-square-foot mansion. The couple's estate, sitting on 13.5 acres, comes complete with a tennis court, cabana, rooftop hot tub, chef's kitchen, wine cellar, four fireplaces, and several secluded gardens on the grounds.
Image byRach/ Flickr

According to Behind the Hedges, the property had an original asking price of $6.5M. It also has a radical pedigree: 400 Hands Creek Road is the former home of Grove Press Publisher Barney Rosset who won several First Amendment cases to be able to publish D. H. Lawrence'sLady Chatterley's Loverand distribute Henry Miller'sTropic of Cancer in the 1960s. Rosset also helped bring the New Left increased prominence by publishing The Autobiography of Malcolm X as well as authors Che Guevara, Ho Chi Minh, Samuel Beckett, and Allen Ginsberg.
Upper West Side
Political satirist and commentator Samantha Bee and her husband Jason Jones purchased a co-op at 300 Riverside Drive in February for $3.7M. The top floor four-bedroom, 2.5 bath apartment has a living room that features a marble mantle that was originally in the famous Plaza Hotel and is large enough to accommodate a baby grand piano with loads of space to still entertain in style and comfort.
Curbed, reporting on the purchase, wrote that the place, at 2,000-square feet is "nice, but not over the top." The kitchen has top-of-the-line stainless steel appliances, the space boasts several sets of French doors, the master bedroom has a half bath, and the apartment has a media room that is sure to be useful to the Full Frontal host.
Greenwich Village
Last October Ashley Olsen put down $6.75M for a 3,000-square-foot Greenwich Village condo at 37 East 12th Street. The two-bedroom, 2.5 bath spot features 11-foot ceilings, a private elevator and plenty of additional amenities.
The original asking price for the condo was $8.75M according to StreetEasy, which also reported that the space formerly housed an art gallery and is fitted with a reclaimed marble vanity from the Museum of Modern Art, among other fixtures, fittings, appliances, and objets befitting a modern gal-about-town.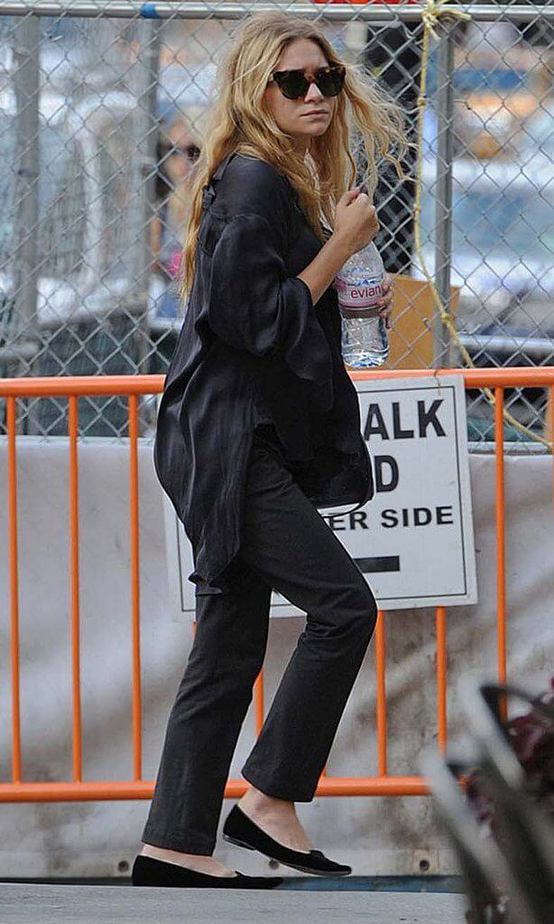 Image byberbagi dolar/ Flickr
Hell's Kitchen
A $10 million penthouse in a posh Hell's Kitchen condo building is comedian Trevor Noah's new abode. Noah, who famously replaced Jon Stewart as host of "The Daily Show," had apparently been renting a two-bedroom apartment in the same building.
Image byDavid Shankbone/ Flickr

Noah's residence, reported in the NY Post in September, is a 2,000-square-foot unit with high ceilings, grand columns, a steam shower in the master bathroom, and amazing views of the NYC skyline and Hudson River. The Comedy Central program host's penthouse is located in The Stella Tower at 425 W. 50th Street.
Upper East Side
A five-bedroom condo in the Peter Pennoyer building is home to broadcast journalist Katie Couric and her husband John Molner. The couple spent $12.2M on the 3,966-square-foot spot at 151 E. 78th Street last March.
The 6sqft blog reported that the Couric/Molner residence boasts both entertaining and bedroom wings among myriad luxurious amenities and unique architectural touches by bespoke British design firm Smallbone of Devizes.
Image byJoella Marano/ Flickr
NoHo
Jonah Hill is owner of a super-cool pad at The Schumacher in NoHo. The building, formerly a printing plant, has only 20 apartments. The NY Post reported last Fall that the busy comic actor bought the place at 36 Bleecker Street for $9.16M after selling his former place in SoHo. Hill gained about 1,200-square-feet and a very fancy upgrade worthy of an Oscar nominee.
Image byAdrian Cabrero/ Flickr

Hill's new digs boast vaulted ceilings, restored columns and beams, over-sized windows, a master suite with a super-bright bathroom along with a massive walk-in closet. The apartment also includes three en suite guest bedrooms.
BOUGHT & SOLD: Celebrity Real Estate Deals In and Around NYC
time to read: 3 min