Sure, most celebrities we know live in the lap of luxury these days — swimming pools, penthouses, multiple homes in multiple cities, private chefs, gyms, etc. But life hasn't always been such lush living on Easy Street for most. As the saying goes, everyone's got to start somewhere. And for these aspiring artists back in the day, their humble beginnings in Manhattan were quite humble. For most New Yorkers, these stories of "my first apartment in the city" are all too familiar. It sometimes helps to be reminded, however, that yes, celebrities are just like us.
Struggling actors Danny Devito and Michael Douglas shared a one-bedroom apartment on West 89th Street on the Upper West Side when they got to the Big Apple. Michael Douglas took to the neighborhood. He still calls the Upper West Side home with his wife Catherine Zeta-Jones and their two children on Central Park West.
Another famous celeb roommate situation? Dustin Hoffman first arrived in New York City with nothing more than $50 and an invitation to sleep on the kitchen floor of fellow struggling-actor friend Gene Hackman's family apartment. After a few days, Hackman found Hoffman a spot rooming with his other actor friend, Robert Duvall, on 109th and Broadway. The three-bedroom, six-floor walkup apartment was a vestige of sorts for struggling actors, who crashed there for nights at a time.
Annette Bening recently went on Live with Kelly and Ryan and spoke about her first apartment in NYC when she arrived in 1986. A friend of hers had an apartment on the Upper West Side with a large closet, and Bening slept in the closet. A year later, she was nominated for the 1987 Tony Award for Best Featured Actress in a Play for her Broadway debut in Coastal Disturbances.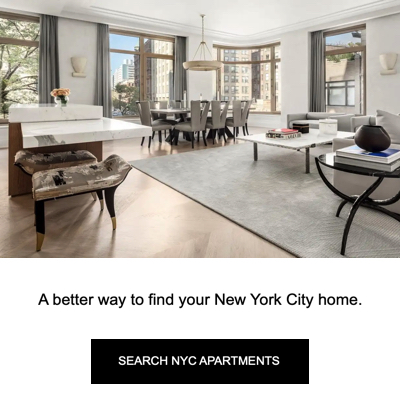 Supermodel Stephanie Seymour recently told Architectural Digest about her first rental in the city. "My first apartment was a big loft. Keith Richards lived upstairs. And that's why I took the apartment. I had no furniture. I had a mattress on the floor. And, um, we drew all over the walls—I had a bunch of friends who were artists. My landlady wasn't happy about it. We had a little table, a couple of chairs. And then just clothes everywhere."
While she currently calls an Upper East Side townhouse home, Madonna didn't have such glorious digs when she first arrived in the Big Apple from Michigan in 1977. With $35 in hand, she found a spare bedroom at 270 Riverside Drive. She didn't stay there long, though, as a year later, she moved to the East Village. She called 232 East 4th Street home until she signed with her first record label and released her debut single.
Filmmaker (and husband to Christy Turlington) Ed Burns didn't always have the lavish living. "My first apartment, I lived in the West Village on Bank Street, and I had no money," Burns said on a tour of his old neighborhood for CBS' Sunday Morning. "So, the only thing that I would do to entertain myself walked around the city. And I probably covered every block of the city for those first five years that I lived here," he continued.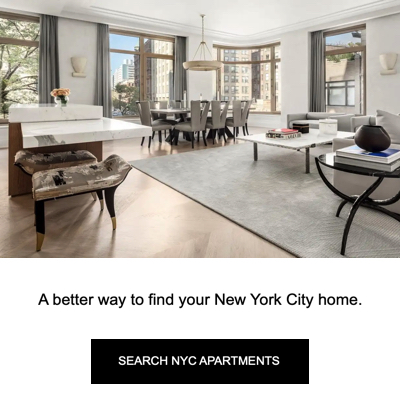 Greenwich Village played an integral role in Bob Dylan's musical career. So, it's no surprise his first New York City apartment was at a studio at 161 West 4th Street. Right in the heart of the West Village. At the age of 20, Dylan was an up-and-coming folk singer performing in small clubs to afford his $60 a month rent. In 19661, photographer Ted Russell was sent to photograph Dylan in his tiny studio apartment. Thirty years later, Russell's photos were unearthed. "The apartment is full of endearing personal effects; wicker trimmed phonograph, a stuffed beagle, wine bottles on the floor, a framed reproduction of Roualt's "The Old King," the description from the photos reads.