With a population of over 8.5 million and spread across five boroughs, getting around NYC can be hectic even at the best of times. Fortunately, it has one of the best transit systems in North America and is one of the largest in the world. There's a good reason why most New Yorkers don't have a car, mainly because the transit system is so effective that a vehicle is not needed. Also, the City is incredibly walkable. But for all its efficiency and scale, the transport system can seem bewildering for new arrivals to the City.
If you're one of those new arrivals here or are planning a move soon, this complete guide to NYC's transportation system will provide you with everything you need to know. Hopefully, by its end, you'll see it's not nearly as overwhelming as it first appears.
Before we get into the finer details, we need to cover a few basic things. Mainly regarding the City's geography, street grid, and what people mean when they say they're going "uptown" or "downtown."
If you've been a resident of the City for some time, then feel free to skip this part. Otherwise, read on to learn how the City and its transportation system are divided up.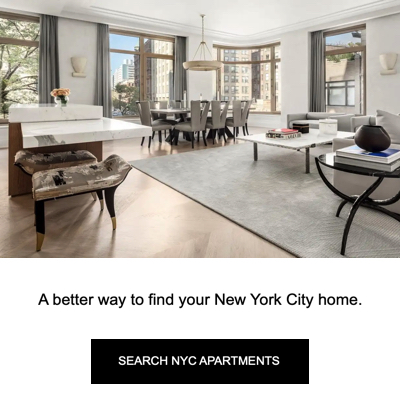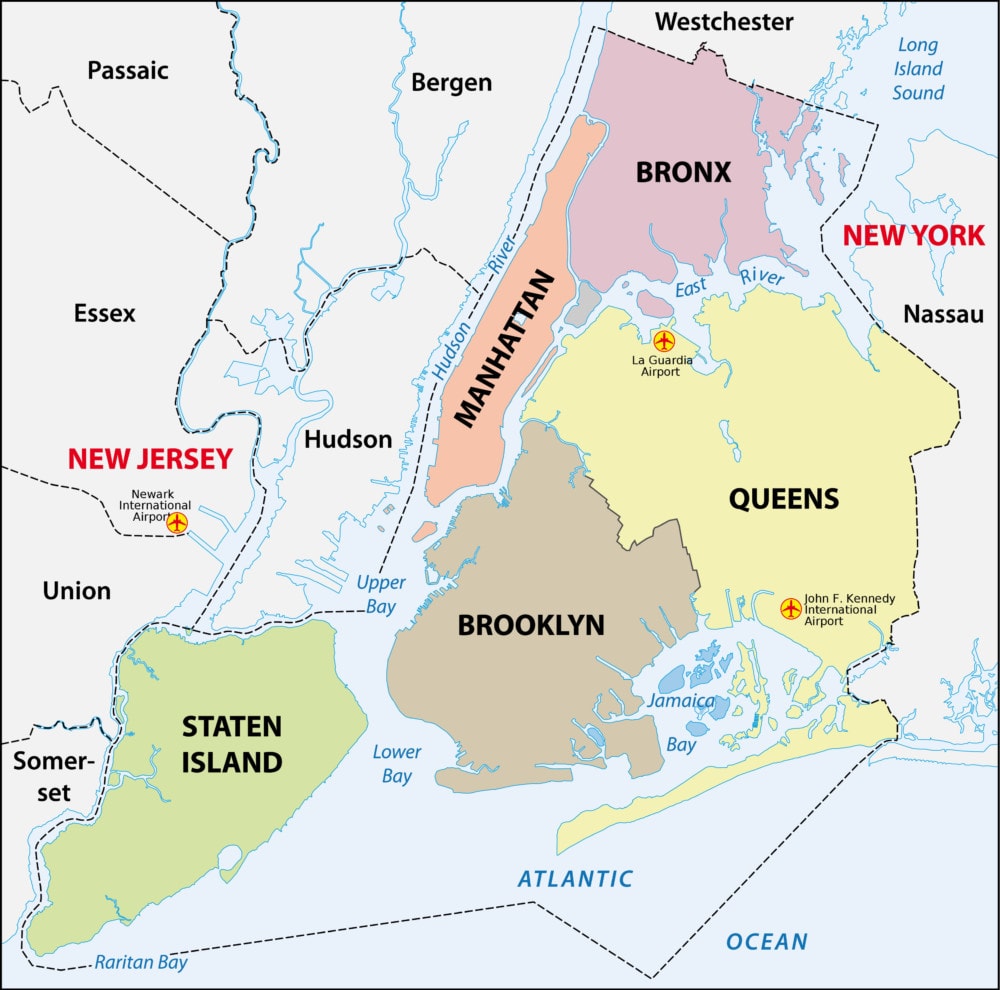 Five boroughs divide New York City. The primary subway system only operates in Manhattan, Brooklyn, Queens, and the Bronx. The exception is Staten Island, which has a train system that only runs on Staten Island. While you'll usually see subway maps that depict both systems, there is no physical connection. Getting to Staten Island will mean taking the (free) Staten Island Ferry or crossing the Verrazano-Narrows Bridge. But while there may be no physical connection, there is a free transfer between the two systems. That ride is free if you pay at one system and swipe at the other within two hours.
While the NYC subway might be the primary transit system, it's not the only one in the greater metropolitan area. Other train systems operate in the City, which should not be confused with the subway.
Locals refer to all of these (except the AirTrain) as the "commuter trains." The reason is that they serve those who live outside the City but commute in and out each day working.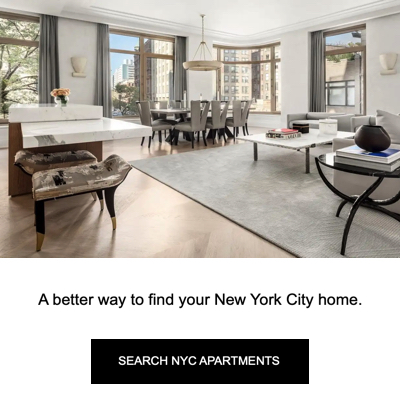 AirTrain JFK/Newark
Amtrak
Metro-North Railroad
New Jersey Transit
Long Island Rail Road (LIRR)
Port Authority Trans-Hudson (PATH)
Manhattan's street system is laid out in a rectangular grid with Streets going east and west and Avenues going north and south. Each street and avenue are numbered, with streets going up in number as you head north and avenue numbers rising as you head west. But don't let this simplicity fool you; in some places, the grid system doesn't entirely align with the directions on a compass. This system is far from perfect, but it serves as a useful concept. Remember this system as it will help you find subway stations and navigate maps.
You'll hear these phrases all the time in Manhattan, so if you want to get around (and fit in as a local), you'll need to know what they mean. Manhattan was divided up into three geographic regions. These are not administrative divisions, and the exact borders are a bit open to interpretation. The most common division, though, is:
Uptown (anything north of 59th St.)
Midtown (between 59th St. and 14th St.)
Downtown (anything south of 14th St.)
These phrases are used to describe the direction of travel. For instance, if you're going on a train from the Upper East Side to East Village, you would say you're headed "downtown." If you're going from Gramercy Park to Harlem (or the Bronx), then you're going "Uptown." No self-respecting New Yorker be caught saying "north" or "south" when describing their direction of travel.
Nothing beats the subway when it comes to getting around the City. The whole system operates 24 hours a day, seven days a week, on 36 lines with 472 stations. On any given weekday, as many as 5.7 million riders pass through it. Despite how hectic it can be at times, getting around to it is super easy.
First, you need to buy a MetroCard. The card costs only $1, but you must put a minimum of $5.50 on the card, not including the fee, when you initially buy it. You can get your MetroCard at Subway stations through either automated machines or booth attendants. You can top this card up at any time in a subway station. Each subway ride costs $2.75, and unlike other subway systems, fares are not distance-dependent. This means you can go as far as you want with a single swipe. You can also transfer to another subway line as much as you want, just as long as you don't pass through the turnstile.
Anyone who uses the subway will want to think about getting an unlimited MetroCard. Tan be had for $33 for one week or $127 for one month. People aged 65 or over and those with disabilities can get a reduced fare of 50%.
There are so many subway lines that it's almost impossible to memorize them. Even locals have to consult a map from time to time. The easiest way to plan any trip is to use Google Maps or the MTA website. It's probably also a good idea to carry around a physical map if you need it. You can get free maps from booth attendants or download one. Also, although the subway operates 24 hours a day, service can be a bit sporadic between midnight and 6 am and on weekends. Service disruptions are also quite common. You can check for these on the MTA Website just using Google Maps, which takes account of these disruptions.
Extra tip: the easiest way to peg yourself as an outsider is to refer to the subway as the "metro" or "underground." New Yorkers nearly always refer to it as either the "subway" or the "train."
As mentioned earlier, there are several "commuter trains" that service the outer boroughs. Metro-North leaves from Grand Central and can take you to Connecticut and Westchester. Long Island Railroad can take you up (no surprise) Long Island, while New Jersey Transit takes you to (no surprise either) New Jersey, you can catch both at Penn Station. These lines can get very busy during rush hour (8 am to 10 am and 5 pm to 7 pm), so you could be left with standing room only. Tickets have to be bought individually and will vary in price depending on where you want to go. An e-ticketing app known as eTix is available for both iPhone and Android, which allows you to buy tickets from your phone for the Metro-North Railroad or Long Island Railroad.
There are 5,725 buses in NYC, and they can be just as useful in getting around as the subway. Like the subway, the fare is $2.75 per trip and can only be used with the MetroCard or the exact amount in change. However, there are some buses along major routes where you have to pay before you can board. These are called "select bus services" and are very obvious due to the kiosk where you pay the fare. Before boarding a bus, make sure to check if it's making all stops or limited stops. Those with limited stops are express routes that reduce commuter time in busier areas.
Buses run about every five to 15 minutes or at longer intervals depending on the time of day. During the night (10 pm to 5 am), drivers will usually stop when you ask them to. You can also press a "stop" button on the bus to indicate that you want to get off at the next stop. There is no need to swipe your MetroCard when disembarking. You can use Google Maps or the MTA Trip Planner when determining the best route.
NYC has a few ferry options, being an island city (of sorts). The main ones are the NYC Ferry and Staten Island, Ferry.
The NYC Ferry is a relatively new arrival to the City, which launched in 2017 and now has four lines with another two planned. There are 21 terminals and 23 boats in operation that connect Manhattan, Brooklyn, and Queens. There are also routes to Roosevelt Island, Governors Island, and Rockaway Beach. Ferry rides cost the same amount as a subway ride. You can check the route map and schedule on their website.
The Staten Island Ferry has been in operation since 1905 and serves both for sightseeing and commuting. You can board the ferry from Manhattan at Whitehall Ferry Terminal. The journey takes about 25 minutes and, best of all, it's completely free.
Then there's NY Waterway, which operates four commuter lines along with various points in Manhattan and New Jersey. There are even free shuttle buses in Midtown and Downtown Manhattan and New Jersey that transport people to and from the ferry terminals.
The iconic yellow taxis of New York can always be waved down when needed. They can be especially handy when the subway service is sporadic. If you're in Brooklyn or one of the outer boroughs, you'll use the green Boro taxis. There are also several ride-sharing apps, such as Uber and Lyft. These are all reliable services and can usually be trusted to arrive quickly.
Just as NYC is very walkable, it's also very bikeable. There are dozens of bike paths around the City that allow you to get around on two wheels easily. The Department of Transportation has a downloadable bike map as well as a guide to biking in the City. You can also make use of Citi Bike, the bike-sharing service that has caught on in popularity since it was launched in 2013. The service has about 10,000 bikes at around 600 stations that can be found all across the City. There are daily, three-day, and annual passes available. Just use your credit card to unlock a bike and then return it to a docking station close to your destination.
For those not on a budget and in a hurry, there are several helicopter services. Liberty Helicopters run several tours around the City and can even do private flights for proposals and marriage ceremonies. Helicopter Flight Services has several options that include the Deluxe Tour, which takes you all around the City. One of the most popular options is Downtown Manhattan Heliport, which is widely used by business executives working on Wall St.
The subway is the best option for getting around during the daytime.
Between midnight and 6 am, check your trip planning apps as routes and lines can change.
When traveling from East to West in the City, or vice versa, the bus is your best option.
On pleasant days, especially in the summer, try taking the ferry or renting a bike, you'll see more of the City and notice things you mightn't have otherwise.
New York is very walkable, so don't discount the option entirely. Distances, though, can be further than you thought, so check the average walking time on Google Maps.
In 2013, New York City's population soared to 19,651,127, and it's still growing with an in-demand real-estate market. Naturally, the NYC transit system outranks any other transportation system in North America, and it stands among the largest in the world. Around 5.5 million people ride the subway daily, but New York City also has an extensive bus system to transport New Yorkers all across town.
The base fare to travel via NYC bus or subway is currently $2.75. The Express Bus ticket costs $6.75 each way. However, most locals who use the subway daily depend on an unlimited monthly MetroCard for $127 or the $33 unlimited weekly card. You can purchase MetroCards at any station with cash or credit. However, as a caution to the debit- or credit-card dependent, you should know buses only take MetroCards or exact fares in coins.
The subway trains run about two to five minutes during rush hour and every five to fifteen minutes during regular day hours. Expect twenty-minute intervals when heading home after a long night out (between 12:00 am to 5:00 am). As such, it's essential to not only have the subway map handy but to know departure times early. Luckily, there are numerous subway apps to keep you updated and on the platform without a long wait.
The New York subway ranks first for the highest usage in the United States. Unlike lines in Washington DC and London, there's no simple guide to "take the blue train" or some other colored line. Each colored line on the subway features multiple trains. So, as a New Yorker, use numbers and colors to refer to each train. For example, the 4th, 5th, and 6th trains run on the green line. Those numbers are what to remember.
Many locals recommend buying a credit card-sized map found at any bookstore when you're starting. The best time to ditch the subway for the bus is when you're traveling between Manhattan's east and wise sides. You'll usually wait about ten minutes between the departure and arrival of buses.
Fancy a trip to Sinatra's Hoboken, New Jersey? How about Staten Island? The Staten Island Ferry operates daily as an excellent, inexpensive alternative transportation for trips outside of Manhattan and the five boroughs. Heading to Staten Island lets you enjoy some time with the Statue of Liberty without feeling like a tourist. The ferry usually leaves every fifteen minutes during the week and every thirty on weekends and late at night.
As much as New York is known for taxis, keep them at minimal use and opt for public transportation instead. It's affordable, quick, and converses most of the City.
One of the best parts of living in New York City is its subway system. A necessity for locals' daily commutes, the underground series of tunnels and stations can be daunting for visitors and new arrivals. Follow this guide, and you'll soon be hopping around the City like a subway pro.
If you're trying to figure out the distance in NYC from one place to another, the subway map can present you with a very distorted and misleading image. Brooklyn and Queens seem far-far away from Manhattan, when in fact, many neighborhoods in those boroughs are closer via subway than Inwood at the Northern tip of Manhattan or Battery Park City at the Southern tip.
But what about Google Maps, you might ask? As helpful as that app is in calculating times and finding directions while you are on the fly, using Google Maps for a full picture of NYC on a phone or laptop screen does not hinder the issue of scale. I've never been able to use Google Maps to get a holistic spatial sense from place to place within the context of the five boroughs.
This post will help you to seek out and find information about real-time distance, travel time, and other ideas for deciphering distances/calculating travel time in NYC. And, this knowledge might make the difference in where you decide to look for your next coop, condo, or apartment and may serve to assist you in broadening your real estate search to neighborhoods (or even boroughs) you might not have previously considered.
Since the island of Manhattan is only 13.4 miles long and 2.3 miles wide, you'd think getting from one place to another would be easy. But sometimes, public transit can be a, well, train wreck.
The MTA's Subway Map is deceiving because it makes many locations look farther away than they are, while other spots may seem closer than they are. Let's pick, for example, Times Square as a destination. The Q train from Ditmas Park in Brooklyn (the Church Avenue stop) is an approximately 32-minute direct ride to Times Square, whereas, from Battery Park in Manhattan, the subway ride is 25 minutes.
However, you must change from the subway to the Grand Central Shuttle train or walk about 4 minutes to get to Times Square. It's six of one, a half dozen of another, as the saying goes. So, Ditmas Park in Brooklyn is as close to Times Square as Battery Park City in travel terms.
It sounds old-fashioned, but there's nothing like securing a to-scale map and spreading it out on your kitchen table to take a look at what distances – walking, commuting, and otherwise – look like.
Maybe you have a car and don't care for the subway, but need to ensure that there is easy parking at your new place, or that your morning and evening commute aren't so long and hectic and frazzled by the time you arrive at work and home.
With a scaled map, you can see how far from or near one place is to another. To-scale maps have a legend on them, which indicates that a ¼ inch on the map is an actual mile or similar. You can use a ruler (again old-fashioned, but oh-so-useful) and lay it down on the map to measure distances in real miles. You can find these types of maps at Barnes & Noble, or other bookstores or order them online.
Another excellent example of misconceptions about distance on the NYC subway map is the L train. It looks as though if you lived in, say; the Jefferson stop on the L train, you'd be a long way from Union Square – nine stops! It seems like a lot of stops, right? And, really far into Brooklyn.
Wrong! The L train stops are so close together that you can walk from the Jefferson Street stop over to Morgan Avenue's previous stop in 10 minutes or less. From Morgan Avenue, you can walk to Montrose Avenue in less than 10 minutes, and so on. You get the idea. It's a 20-minute ride from Jefferson Street to Union Square, but you'd never know it based on looking at the MTA's subway map.
If you want to live further out in Brooklyn, where prices are lower, and there is often more space, consider choosing a place near an express train. Then, it's no big deal getting into Manhattan for work – or play. Check out this geographically accurate NYC subway map for comparison.
New York City offers some of the most lucrative careers in the world. As a result, rent and mortgages will be expensive if you choose to live there. Today, we will discuss every career-minded person's big decision; is it better to spend more on your living space to be closer to work or save money and commute? One option saves you time but leaves you with less financial margin, while the other saves you money but cuts away at your free time. To decide where to live, you must weigh a few crucial factors like your finances, home life, and personal happiness.
Financial experts advise that your rent or mortgage should not take up more than 30% of your monthly income. Though this is not always feasible, it is wise not to let this monthly expense go beyond a reasonable rate. When you choose a place to live, balancing your finances should be your top priority. No matter how attractive that apartment is across from your office maybe, if it is eating up a more substantial significant chunk of your salary than you can handle, you should consider more affordable options or consider getting a roommate when renting.
If you choose to live further away from work to save on your rent or mortgage, be sure to figure out the cost of commuting. Expenditures such as gas, rail/bus tickets, your MetroCard, and meals on the go should be estimated into your monthly budget. Lower mortgages and rents from the suburbs should always have travel costs added to them to give you the actual value of commuting.
Once you have a better picture of the costs of commuting vs. living closer to work, you should also decide on the time you want to spend outside of your home. Commuting requires more time for travel, whereas living closer to work gives you more free time. Make a realistic schedule of spending your time in each location and decide if it fits into your desired lifestyle.
Having a family is an essential factor to consider when deciding how far to commute. Saving money by commuting can keep a family's budget from becoming strained, but the lack of time at home can affect your relationship with your family. Balancing child-rearing responsibilities with your partner is also essential. Are you making enough time for your loved ones with your living plan?
Will a commute too far affect your ability to be available for daycare pick-ups and emergencies? Do you have a partner who can stay at home or work closer to your children's school? Your answers to these questions will help you decide how you and your family can compromise to make a healthy balance between work, commuting, and relationships.
You should enjoy your career and home life, so if a living situation is not working out for you, do not be afraid to make adjustments. Life is full of constant changes to which we must periodically review and adapt, so it is wise to assess your situation and work toward a happy life.