New York Exclusive Buyers Agents
Buyer's broker exclusively representing home buyers since 2001, built on reputation and results.
As true buyer agents at Elika, our job is to help buyers find the perfect home in New York while providing the very best in class service. When you hire us, you will receive 100% loyalty, 100% of the time, independent research, unbiased assistance, and strategic advice. Our goal at Elika is singular; help our clients to buy the right property at the right price. Our service areas include Manhattan, Brooklyn, Queens, Bronx, Long Island, and The Hamptons.
Personalized Service
We know it takes time to find and choose the right property, whether as a home or a new investment property. That's why we exist to serve you by handling all the complicated steps and research, so you don't have to. As a REBNY member, we have access to all New York City properties listed for sale and, even at times, properties yet to officially listed. When you work with an Elika exclusive buyer's agent, you can be sure of finding your dream home.
Receive your free consultation from an Elika agent. They'll take all your needs and desires into account so that they can track down just the property you're seeking. Once the agent has a shortlist for you to view, they'll accompany you along every step of the way to answer questions and provide advice.
What we do
If you're in the market for a New York City property, then you'll need the best representation possible. Many homebuyers make the mistake of choosing a sales agent or a part-time buyer's agent. The problem with this is that it wastes a lot of time. Agents are not always working in your favor. A sales agent is excellent when you're selling a property, but then the potential dual agency can often work against you if you're buying. That is because sales agents work for the seller; their job is to get the highest price possible and terms in favor of the seller. Instead, if you go with an exclusive buyer's agent, then you'll be guaranteed a loyal agent who will work only for you.
That is precisely what Elika Real Estate provides, a dependable agent who will look after your best interests and fight to get a property on fair terms.
How we are structured
Elika Real Estate is a premier New York City firm that specializes in exclusive buyer representation. As a member of the National Association of Exclusive Buyer's Agents (NAEBA), our duty and responsibility go entirely to the buyer.
As a Real Estate Board of New York (REBNY) member, we have access to all NYC's exclusive listings. That means you'll have a far more extensive inventory to choose from; then, you would go it alone. It also means you have a high chance of being the first in the door with an offer. Whether you're a US resident or a foreign investor, we've got the skills and experience to find a property that suits your needs and secure it on terms favorable to you. Best of all, our fee is paid entirely by the seller.
Explore
Featured In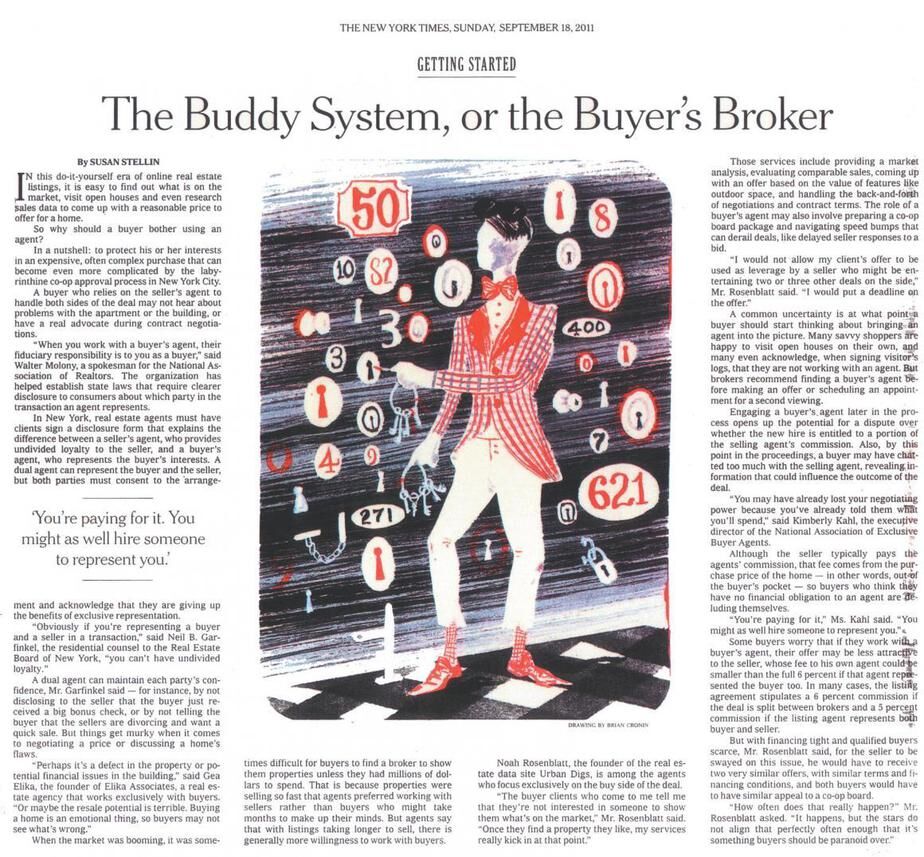 What does an Exclusive Buyer's Agent do?
NAEBA Exclusive Buyer Agents (VIDEO)
What it's like being a buyer's agent (Podcast)
In this podcast, Victoria Ray Henderson, Vice President of Buyer's Edge and one of the leading buyer's agents in Washington D.C., sits down with Gea Elika to learn what it's like being a real estate broker in New York City. Gea shares how he first got into real estate, how working in New York differs from other states, and how he goes about helping buyers find the right home. If you're looking for a home in Manhattan, Brooklyn, Bronx, Queens, Long Island and The Hamptons then listen to how Gea can help you do that.
How is a Buyer's Agent Paid in New York City?
The buyer's agent is paid a commission, as with any other agent, built into the purchase price. When the seller discusses the price with the listing agent/company, he/she is factoring in the 5%-6% sales commission. The commission is then divided between the seller and buyers agent. As a buyer, you do not pay any extra fees.
The commission split with half going to the brokerage brought in the buyer and the other half to the firm that listed the property. However, if the same brokerage that lists the condo, co-op, or townhouse also brings in the buyer, then the full commission stays with them — referred to as an in-house sale.
With that in mind, you might be thinking that the higher the sales price, the higher our commission is. But that's not how we approach it. From our perspective, our entire responsibility is to get you the property at the best price possible for you. That's because we know that our business expands only with satisfied customers. Think of it this way; you wouldn't hire your spouse's attorney to represent you in the divorce. The same applies to real estate.
Instead of making as much money as possible from one deal, the reputable buyer's agents understand their duty. That is best to have satisfied client relationships that refer them to other people over the long term. In real estate, reputation and relationships are worth much more than a single commission for a career buyer's agent. Happy clients are how an expert buyer's agent builds their careers.
What does a Buyer's Agent do?
To make the purchasing process easier, our buyer's agents move quickly to present you with all the facts about every property they offer to you. Since our firm doesn't handle sales listings in any way, we have no conflict of interest when providing our services.
While the same incentive remains for a buyer's agent, whose commission also increases with sales price, he/she follows a different standard. A buyer's agent has a fiduciary duty to his/her client at all times. Members of the National Association of Exclusive Buyer Agents (NAEBA) are required to follow a strict Code of Ethics and Standards of Practice, which include a duty to act on behalf of the buyer/client with due diligence, professionalism, and reasonable care, along with a commitment of undivided loyalty.
In other words, a buyer's agent is legally bound to work for your interest. Their responsibility is to discover and pass along any information that helps you decide on a specific property. Experienced buyer's agents can identify properties that could outperform and experts in negotiating the best price. A seasoned exclusive buyers agent performs comparative market analysis, much like an analyst, which traditional agents do not deliver to the same degree.
The Home Search
Many listing sites are available now, where buyers can use an advanced search to find their liking properties. StreetEasy is the best consumer platform in NYC, but it still suffers from the same problems as others, mainly that you'll have to comb through hundreds of different properties that have all the less desirable mixed in with the good.
You'll have to make a shortlist based on your wish list, preferred neighborhoods, and budget. Even if you can narrow down a list of 10 or 20 properties to call, you'll then have to find the time to visit each one and evaluate them. All of this isn't hard, but it can be time-consuming, especially if you're unfamiliar with the neighborhoods, streets, and buildings.
When you hire a buyer's broker, they will curate and do all the searching, calling based on your needs and budget. They can then schedule appointments to view properties they feel are suitable for your need and potentially worth considering. If you're working full-time and don't have a lot of free time, this alone can be invaluable. When viewing properties together, they can explain each's pros and cons to help you decipher which is the right one. All this saves you time and ensures that you find a desirable property with great long-term potential that matches your needs and budget.
Home Valuations
Thanks to our experience with the NYC housing market, we can always find the essential information about a property before presenting it to you. All buyers need to know about potential price appreciation. By carefully screening the market and previewing properties before showing them to you, we can spot the best real estate that matches our client needs. To learn more, read up on how our comparative market analysis works.
Provides Offer Strategies
Using an in-depth comparative market analysis and considering all the information provided in the report is well informed. The summary includes a fair value estimate and strategies for offer price and negotiations. We are putting the buyer in the best position possible to proceed with an offer on a particular property.
Negotiations and making an offer
The vast majority of listed properties in NYC are represented by listing agents you will deal with rather than the sellers. Without a buyer's broker to represent your interests, the listing agent will assume dual agency. Meaning that while the listing agent will help you with any questions you might have, their loyalty will be to the seller.
Their job is to sell and for the highest price possible. Therefore, in negotiations, they will always lean towards favoring the seller. Unless you have a lot of experience handling negotiations, you could be in for a rough ride on your own. There may be counter-offers and other interested buyers who could see your offer rejected without excellent negotiation skills.
A buyer's broker can handle all of this and make suggestions on how best to answer counter-offers and deal with a bidding war. If you've chosen the right buyer's broker, they will know the neighborhood, current market prices, and perhaps something about the seller's motivations.
Also, keep in mind that in NYC, real estate contracts are not binding until both parties have signed the contract. The sellers have the distinction of being the last to sign. Meaning that even if they gave a verbal agreement to accept your offer, a better offer might come through and lead to them canceling yours. Unfortunately, you can do little if this happens, but you'll be better prepared, at least if you have an agent.
Sundry Services
Buying a home requires the help of several different professionals. There are mortgage brokers to consult, attorneys, home inspectors, contractors, and others before closing. The cost of these services can add up, which is why we source the very best professionals to help you make it to the closing day.
As should be clear by now, exclusive buyer's agents are the way to go. Elika agents provide undivided loyalty to you and work to get you the very best price and terms possible. Since buying a home is such a big decision, you'll need the best advice and guidance you can get. Our agents work to do just that.
We're the only firm in Manhattan eligible for membership with the National Association of Buyer's Agents. New York State requires that all real estate agents disclose their agency relationship, the rights, and obligations it creates. You can use the disclosure form for the buyer and seller to clarify who works for who.
Recommend other professionals
Buying a home requires the help of a range of different professionals. You'll need a home inspector to ensure there are no problems with the property. A real estate attorney to handle due diligence and arrange everything for the closing day. A mortgage lender to underwrite and approve your mortgage. And a contractor if you plan to do any renovations after the sale. Your agent can provide tried and tested ones that they've worked with before or had recommended to them. All this helps you get through each step of the process and lead to a successful sale much faster.
Help you secure financing.
Mortgage financing can be very complicated and confusing. If it's your first home purchase, it can be very hard deciding which mortgage type is right for your circumstances. A buyer's broker will help you navigate through this stage. They'll help you understand each of your options and help you to secure a mortgage through your chosen lender.
Help you overcome setbacks.
It's rare for a home sale to go entirely smoothly with no road bumps. The home inspectors report may come back with issues that need to; be addressed. If that happens, your agent can advise you on how best to proceed and handle any renegotiations. If negotiations become deadlocked at any point, it can be reassuring to know you have an agent standing between you and them.
They can act as an emotional filter.
Buying a home can be a very stressful time. At such times it's easy for people to allow emotions to cloud their judgment and make rash decisions. Since a buyer's broker isn't emotionally attached to a property you're interested in, they can help keep you on track and see the pros and cons.
What to expect when hiring a Buyer's Agent?
While purchasing a home anywhere in the US is a huge decision, the prices found in NYC make it even more so here. Getting the keys to your new home will be an exciting moment. However, to get there, you'll need to jump through a lot of hoops. From anxiety to stress to frustration, the emotions associated with buying a home can run the entire spectrum.
Advice from an expert in this situation is priceless, especially when buying a condo or co-op apartment. The main advantage of hiring a buyer's agent is that they'll help you choose a property and negotiate the best price and terms for you. Keep in mind; this service is available to you at no cost.
But the difficulties of buying a home in NYC don't just stop at the high prices. With a limited inventory, buying here can be fiercely competitive. Then there's the time and effort you'll have to spend viewing dozens of properties before you even find the right one. That is, of course, if you ever actually do find it and then secure it. Bidding wars are prevalent here, which is another reason why having an agent to handle it and give advice can be so invaluable.
Determine Sellers motivation
The buyer's agent should try to determine how motivated the seller is. A "highly motivated" seller is likely more willing to negotiate. If someone's financial or personal situation; (e.g., divorce, already purchased another home, pending foreclosure) ascertained, this would determine if the seller might flexible in negotiations.
Current market conditions
The buyer's agent should be well versed in current market conditions, sentiment, and trends. Comp data is a lagging indicator, so an experienced buyer's agent makes adjustments based on real-time information. This is currently a buyer's market for New York City real estate, but an on the "front lines" will have a sixth sense when the winds are changing.
Property condition
The essential consideration of the property conditions, including the building itself. A complex area with many factors to consider. These include the building's profile, age, unit mix, ownership share of primary users versus investors, and the electrical/ plumbing quality. Our recent article "What To Look For When Buying Real Estate In A Challenging Market" summarizes the components one should look for in a property.
Improvements and upgrades
Have there been property improvements and upgrades or lack thereof? An experienced agent knows what is worth paying extra for and which ones are not. Tasteful kitchen and bathroom renovations are usually welcomed; if need be, considerations for the replacement cost, process, and time are assessed.
Comparative Market Analysis
Now, the agent should turn to sales comps. The comparison has to be meaningful; an experienced agent will ensure that is the case. Recent closing prices or like-kind properties in the same neighborhood, ideally in the building where the unit is. If relevant data is lacking within the building, your buyer's agent must find comparable properties within the same building. Essentials are bedrooms, bathrooms, what floor the units is on if there is a view, how much light the unit has, amenities, etc. Beyond recent transactions, they should also look at the listing price and trends for similar homes. Here is an invaluable understanding of the comparative market analysis.
Buyer's Agent Duties and Responsibilities
There's a lot that goes into buying a home. Before you get started, it's essential that you first get all your financial information in order. That's because it's common to receive questions in the first stage of the buying process. Having someone who can go through all this with you at the start will make the rest easier. Doing this will allow you to determine what you can afford and ensure that you have all the financial documentation in order when you apply for a mortgage. The first thing that a buyer's agent can help you with. They go through these issues all the time; and know how to handle it so that nothing is forgotten.
Shortlist
The next step is to shortlist and start looking for potential homes. As you may have guessed, this can take a lot of time. Identifying the right properties takes time, as you'll need to research each one and schedule appointments to view each one. A buyer's agent can handle all of this for you and schedule viewings for only properties they feel match your needs best.
Then there's the negotiations, board package for resales, and closing phase to get through. All this can present challenges that make it hard to stay unemotional and locked onto the target. Having a buyer's agent means you'll have someone who can act as a guide, smoothen out any roadblocks, and provide impartial advice when emotions start to run high. For all these reasons and more, you'll want an exclusive buyer's agent by your side.
Access to all Properties
Your buyer's agent may even catch wind of a hot new development or apartment before it hits the market. Thus, giving you a chance to view it and make an offer before the general public knows about it.
Help with Buying Process
There's a lot to know when purchasing a property in NYC, and no one will explain it better than a buyer's agent. Choosing a neighborhood, what to offer, or how to overcome difficulties in the purchase, a buyer's agent will know how to guide you through all of it.
Protection
This point speaks for itself, but no one wants to be, pushed into making an offer. Let a buyer's agent handle other brokers and sellers.
Expert Negotiators
Negotiations on a home purchase can get tough, even for the experienced negotiator. Since a buyer's agent works exclusively for you, you'll be sure that they have your back and will fight for you to get the best deal possible. Using comparative market analysis, your agent will advise you on the best offer to make and then handle any counter-offers and hard negotiating that might come next.
Relationships
Buyer's agents have a long list of relationships with other people in the business and are not restricted to other agents. They'll have a network of mortgage brokers, attorneys, inspectors, architects, interior designers, contractors, and other professionals that they can recommend to you. Save you a lot of time and contact only the most honest people in the business.
On the Front Lines
With an exclusive buyer's agent at your side, you'll have access to the market in real-time. Allowing you to capitalize on opportunities as they come. On the flip side, this will also alter you to neighborhoods with declining property values or could experience them soon. Agents will often have access to this critical information ahead of media outlets. Thus, allowing you to choose only the best and avoid the worst.
Home Buyer Pays Regardless
Based on the Real estate Board of New York, the sales commission set at between 5% and 6% and paid regardless of whether you have representation or not. The commission either goes all to the listing agent or is co-brokered 50/50 between them and the buyer's agent. That means you'll be paying this anyway. Better to take advantage of an agent's expertise and reap all the benefits mentioned.
Buyers have nothing to gain and everything to lose by not going with an agent. If you try to go it alone, then chances are you end up with a worse deal. That is because you will be entirely at the mercy of the listing agent; their job is getting the highest price possible for the seller. Having a buyer's agent allows you to level the playing field by having someone who represents your interests. The only person who benefits from not including a buyer's agent is the listing agent, who can claim 100% commission.
Not all Buyers Agents are the same.
While buyers can benefit significantly from working with an exclusive buyers agent, not all of them will work in your best interests. Make sure you choose an agent that is only going to do what is in your best interest. Check the accreditations of both the agent and their firm and interview each one carefully before signing anything. You will want not only the best but also someone you can get along with. The two of you will be spending a lot of time together; it helps when both on the same page.
Firms or agents that are members of the NAEBA can deliver that loyalty and professional responsibility to you 100% of the time. If an independent buyer agent/brokerage is unavailable in your area, find one that has earned an Accredited Buyers Representation (ABR) designation. When deciding between buyer agents, these are the two most significant distinctions to make. An exclusive buyer's agent works to secure a deal that only works in your best interest.
How about I represent myself?
Readers are probably asking themselves, what happens if I merely represent myself? That way, I can avoid paying a 2%-3% commission and save on the purchase price. However, it does not work that way. In actuality, the listing agent keeps the entire commission, with none of the savings passed on to you. Because it is not solely the listing agent but the brokerage for whom they work that is bound to the seller.
You may also think the seller's agent will help you since he/she does not have to co-broke the commission with another agent. False. The seller's listing agent contractually owes a fiduciary duty to his/her client, not to you, the buyer.
Involves trying to obtain the highest price for the seller with little to no disclosure. A listing agent's job is an important one, which is to sell a property. A buyer's agent role is to be unbiased and provide full disclosure.
HUD recommends Exclusive Buyer Brokers
For reference, you do no better than one from the US Department of Housing and Development. Their advice is that if you want someone who only works for your interests, go with an exclusive real estate buyers agent.