New York City, the "Big Apple," is a captivating and dynamic metropolis that offers an array of neighborhoods to suit every taste and lifestyle. From the hustle and bustle of Manhattan to the diverse boroughs of Queens and Brooklyn, NYC has something for everyone. In recent years, the city's neighborhoods have garnered increasing interest from people worldwide, leading to a surge in Google searches for specific areas. Let's delve into the top five most searched neighborhoods in NYC on Google in 2023 and explore other popular neighborhoods that have piqued the curiosity of potential residents and visitors.
Astoria, located in the borough of Queens, stands out for its vibrant and eclectic atmosphere. The neighborhood boasts a rich cultural mix, with a large Greek community that has left an indelible mark on the area. Visitors and residents can savor the delicious Greek cuisine offered in numerous eateries. Beyond its gastronomic delights, Astoria provides a range of entertainment options, from live music venues to cozy cafes. The availability of affordable housing and easy access to Manhattan via public transportation makes Astoria an enticing option for those seeking a more affordable yet lively New York experience.
Average rent: $2,500/month
Average real estate sales price: $750,000
Situated in the heart of Manhattan, the Upper East Side has long been synonymous with luxury and sophistication. Home to some of the city's most esteemed schools and exclusive addresses, the neighborhood exudes an air of luxury. Alongside prestigious institutions, cultural landmarks like the Metropolitan Museum of Art and the Guggenheim Museum enhance the area's allure. Central Park, an iconic green oasis, provides a serene retreat from the urban jungle. The Upper East Side's combination of high-end living and cultural richness draws many discerning individuals to explore this elite enclave.
Average rent: $4,500/month
Average real estate sales price: $3 million
For the avant-garde and artsy souls, the East Village in Manhattan serves as a creative haven. Boasting a rich history of artistic expression and cultural experimentation, the neighborhood continues to attract artists, musicians, and bohemian spirits. Its streets are adorned with vintage shops, trendy bars, and experimental theaters, showcasing the neighborhood's diverse and vibrant character. Despite its lively atmosphere, the East Village maintains a sense of affordability, making it an attractive option for young professionals and students seeking an exciting urban experience.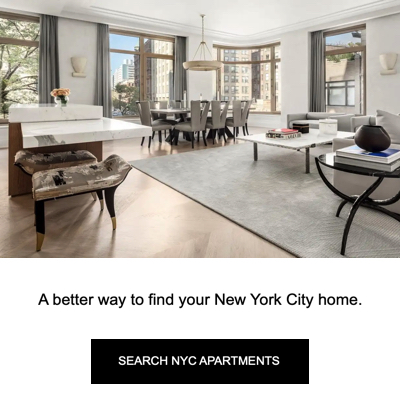 Average rent: $3,000/month
Average real estate sales price: $1 million
Once an industrial hub, Williamsburg has transformed into a trendy and hip neighborhood in Brooklyn. Known for its alternative art scene, this vibrant area attracts artists, designers, and creative entrepreneurs. The neighborhood's streets have unique boutiques, chic art galleries, and innovative eateries. Williamsburg's energetic nightlife contributes to its appeal, drawing both residents and visitors seeking entertainment. Additionally, its proximity to Manhattan and an array of green spaces, such as McCarren Park, further add to its allure.
Average rent: $3,500/month
Average real estate sales price: $1.5 million
In Queens, Long Island City has experienced rapid development in recent years. It has evolved into a bustling neighborhood with commercial and residential spaces. The presence of significant tech companies, such as Googleplex, has played a role in its transformation. The stunning waterfront views of Manhattan's skyline and the ease of access to the city through the 7 train have made Long Island City an attractive destination for professionals and families alike.
Average rent: $3,000/month
Average real estate sales price: $1 million
Beyond the top five most searched neighborhoods, several other areas have captured the interest of those considering life in the Big Apple: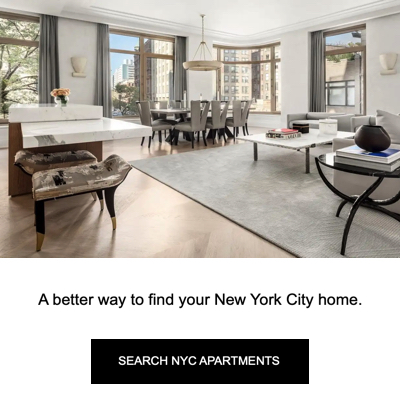 Greenwich Village, known for its bohemian history and artistic legacy, remains a cultural hotspot in Manhattan, offering a unique and charming atmosphere. This neighborhood has a long-standing reputation for fostering creativity and has been a magnet for writers, artists, and musicians. Its tree-lined streets are dotted with historic brownstones and picturesque townhouses. Greenwich Village also boasts a vibrant nightlife with various bars, music venues, and theaters. Its character, artistic ambiance, and central location make it a sought-after destination for those seeking an exciting and culturally rich NYC experience.
Average rent: $3,500/month
Average real estate sales price: $1.5 million
Harlem is a neighborhood with a rich cultural heritage that has seen a resurgence in recent years. Celebrated for its thriving arts scene and soulful music venues, Harlem offers a unique blend of history and modernity. The neighborhood is home to iconic landmarks like the Apollo Theater, where legendary musicians have performed throughout history. Harlem's lively atmosphere is complemented by its many cultural festivals, art galleries, and community events. With an array of dining options, including renowned soul food restaurants, Harlem provides a rich and diverse culinary experience. As real estate development continues, Harlem remains an attractive choice for those seeking a blend of culture, history, and community spirit.
Average rent: $2,500/month
Average real estate sales price: $750,000
Nestled in Brooklyn, Park Slope exudes a family-friendly charm with tree-lined streets, beautiful parks, and a strong sense of community. The neighborhood is a haven for families and young professionals, offering abundant green spaces, playgrounds, and excellent schools. Park Slope's bustling commercial avenues are home to various shops, restaurants, and cafes catering to various tastes. Residents and visitors can enjoy strolls through Prospect Park or explore cultural institutions like the Brooklyn Museum. Park Slope's welcoming atmosphere and well-rounded amenities make it an attractive option for those seeking a tranquil and family-oriented urban experience.
Average rent: $3,000/month
Average real estate sales price: $1 million
The Financial District in Lower Manhattan is a neighborhood home to Wall Street and many other financial institutions. Iconic skyscrapers and historic landmarks characterize the area, including the Charging Bull statue and the Trinity Church. Amidst the bustling economic hub, the Financial District also offers a range of cultural attractions and waterfront views. Residents can enjoy strolls along the Battery Park Esplanade or visit the 9/11 Memorial and Museum to pay homage to the city's history. The Financial District's convenience, accessibility, and mix of modernity and history make it a popular choice for those seeking a vibrant urban lifestyle.
Average rent: $4,000/month
Average real estate sales price: $1.2 million
Brooklyn Heights is a neighborhood in Brooklyn known for its historic brownstones and stunning views of the Manhattan skyline. The area's charming streets are lined with elegant architecture and lush greenery. Residents can enjoy leisurely walks along the iconic Brooklyn Heights Promenade, which offers panoramic views of the East River and downtown Manhattan. The neighborhood's cultural scene thrives with community events and local art galleries. Brooklyn Heights is also home to a vibrant dining scene showcasing diverse cuisines. Its historic charm, breathtaking views, and proximity to the city's heart make Brooklyn Heights a sought-after destination for residents and visitors.
Average rent: $3,500/month
Average real estate sales price: $1.5 million
New York City's neighborhoods each have distinct personalities, catering to diverse preferences and lifestyles. The top five most searched neighborhoods in NYC on Google in 2023—Astoria, Upper East Side, East Village, Williamsburg, and Long Island City—represent the city's eclectic offerings. From the cultural enclaves of Astoria to the creative hubs of Williamsburg and East Village, these neighborhoods showcase the city's dynamic essence. Meanwhile, other popular neighborhoods like Greenwich Village, Harlem, Park Slope, Financial District, and Brooklyn Heights offer unique draws, adding to the city's captivating allure.
For those considering a move to NYC or simply seeking a change of scenery, thorough research and personal visits to the neighborhoods are crucial. Exploring the streets, talking to locals, and immersing oneself in the distinctive vibes will provide a clearer understanding of which neighborhood aligns best with individual preferences and aspirations. Ultimately, New York City's ever-evolving neighborhoods offer an enticing tapestry of possibilities, ensuring that anyone who calls this vibrant city home will find an experience like no other.