With the price of rent increasing, a monthly mortgage payment can often cost less when purchasing a home. New York City real estate is better equipped, renovated, and in your name. But before you can move into that dream apartment that you own, one significant obstacle stands in your way: the down payment for apartments and townhouses in New York City. In a recent study, New York State ranked third among the highest average down payments by amount, behind California and Washington, DC. New York City skewed New York State's results into the top three, with apartment listing prices in the millions.
We break down what you need to know, how much you need in cash, and how you are ready to buy your NYC apartment.
Depending on the property, you'll need a downpayment of about 10 to 30 percent, whether a condo, co-op, townhouse, or house. It can be more nuanced based on the building, what you can afford monthly vs. have in cash now, and the bank you are working with for your mortgage.
Before getting to the specifics, an ethical principle is that the more money you put down upfront while purchasing your apartment, the less you'll pay monthly.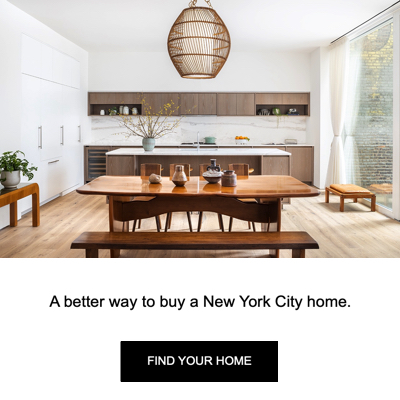 But, the less you're willing or able to put down upfront increases, the more risk your mortgage lender sees in you. This, in turn, means you'll have to pay a higher interest rate and other potential fees while paying off your mortgage.
So what's the actual minimum you can put down? While you might be able to put zero percent down in some parts of the country, that won't be the case here in New York City. Lenders and sellers will turn you away.
If you plan to use a Federal Housing Authority (FHA loan), you could decrease 3.5 percent of the total cost. But this means you'll be limited to buying in FHA-compliant buildings; and will likely be forced to purchase in the outer boroughs.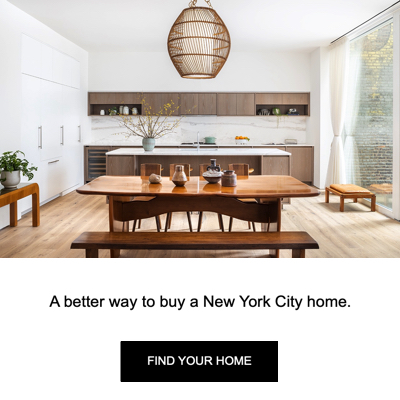 In the 10 to 15 percent-down range, you may find a lender open to giving you a mortgage, but sellers will often be hesitant to accept an offer with that much financing involved. A downpayment of this size will only seem attractive if the apartment has a low interest.
If you can only put down 10 to 15 percent, focus your buying search on condos. Condos often have minimum financing requirements but usually less than co-ops. However, condos can also be more expensive to buy, so while the downpayment would only be 10 percent, the cash is more than 10 percent of a co-op.
If you plan to put down any amount less than 20 percent, you'll likely also need Private Mortgage Insurance (PMI) to guarantee the loan in case of default. Having a PMI will increase your total monthly payment.
The standard downpayment to buy an apartment in New York City is 20 percent and is often required in most cooperatives. Most sellers expect the threshold and normalize your interest rates with lenders, as they will see you as less risky.
Offering 20 percent down is required by most properties and will help put your offer in the running of being accepted.
If you want to increase your odds of having your offer accepted and lower your interest rates further, offer 30 percent down.
If you're purchasing the apartment as an investment property rather than a primary residence, 30 percent down is the standard accepted amount. But expect your interest rates on the mortgage to be higher than that of a primary residence mortgage.
First, if you have enough money to make an all-cash offer on an apartment – Congratulations! You did a significant job-saving.
If you have the cash and don't want the monthly payment, you can make a 100 percent all-cash offer. Most sellers dream of this, as it speeds up the closing. They will take your offer seriously and may even be accepted at a slightly lower price threshold because the seller knows the offer won't fall through because of financing concerns.
Unfortunately, how much cash you have saved is not the only factor determining the size of the downpayment you need. The building and the seller will affect your downpayment.
A co-op apartment building will usually require at least 20 percent down. Some co-op buildings are more investor-friendly that require an all-cash offer. Some apartments will also need 30 to 50 percent down. Usually, the listing will indicate a minimum downpayment, so look for this before you tour the apartment.
The co-op board will review your proposed downpayment and debt-to-income ratio if you buy a co-op.
Even if a building allows your downpayment, that does not mean the seller will accept it. Sellers are attracted to all-cash or non-contingent offers because of the likelihood the proposal will go through.
Offering a 20 percent down payment will get you a reasonable mortgage rate and increase a seller's desire to accept your offer in most apartments in New York City.
It is tempting to place as small a down payment as possible. Perhaps you would like not even to put any money down. After all, you may not have adequate liquid assets, or you would instead use these assets to earn a return while you pay down the mortgage over the years.
There is a myriad of considerations, however. In New York City, the situation is complicated by a board's influence (particularly in the case of a co-op). Although you should remember that the decision is not entirely in your hands, we go through your options.
You make a more substantial offer; Cash is king since sellers do not have to worry about getting a lender's approval for both you and the building. They also know your financials are more likely to get the board's approval. Many co-op boards insist upon a sizeable down payment, even as much as 50%. They also know you can accommodate a quick closing if that is appealing to the seller.
Therefore, an all-cash offer should provide you with some negotiating leverage. On the flip side, you are tying up a significant amount of cash instead of investing it.
The 20% threshold is essential since you do not have to pay personal mortgage insurance (PMI) at this point. Also, the standard down payment when buying a New York City property. You also receive a more favorable interest rate at this point than at lower percentage down payments.
However, there are certain circumstances where you can put less than 20% down. You may pass muster with your lenders if you want to make a 10% to 15% down payment. However, you may face challenges with the sellers and the building or co-op board. May work for a condo or be willing to purchase a unit in a less desirable neighborhood.
Getting a seller to take your offer seriously is an uphill battle. Lenders are boards likely to balk. It will likely only work under exceptional, limited circumstances. One such case might be a developer offering deals with a 5% down payment in specific neighborhoods. Anything less than 10% is a tough sell in New York City.
Although difficult, you may find a building where you can place as little as 3.5% down. There are certain conditions, such as a 580 minimum credit score. The Federal Housing Administration insures these loans, known as FHA loans.
The FHA imposes other requirements, such as solid employment history and specific financial ratios.
If this type of loan interests you, the tricky part is finding a building willing to accept these conditions. So, it would help if you prepared yourself to restrict your housing choices.
You should expect to make a minimum down payment if you purchase a property in the city, though. Obtaining 100% financing is not a realistic option.